But only for a couple of weeks so if this is your bag then you are advised to get along and see it before it is too late.
Throughout one of the most acclaimed UK exhibitions of the summer, David Mach and his studio have been hard at work – in full view of the public – on the Last Supper, a huge 24ft by 8ft decoupage.
The spectacular work features images of the board of VentePrivée, a French online retailer, as Jesus and his twelve disciples.
The finished Last Supper decoupage was formally unveiled at the City Art Centre last week by the French Consul General, Pierre-Alain Coffinier.
David Mach said: "Precious Light has been a huge undertaking for us and since the doors opened to the public, we have continued to work on this last piece. It's been a revelation working in the gallery, meeting, talking to and watching the reactions of visitors. I know it's been fascinating for me to watch them and I hope it's been fascinating for them to watch us too. It's certainly an unusual situation. Normally you install a show and disappear."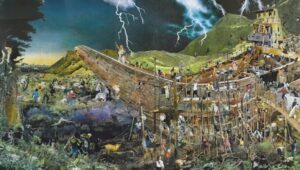 Councillor Deidre Brock, Culture Leader for the City of Edinburgh Council, said: "David Mach's Precious Light exhibition has caused a genuine sensation in Edinburgh since it opened. Gallery goers have been particularly captivated by the opportunity to watch him and his team of artists at work on the Last Supper within the City Art Centre itself and we are all very excited to see the finished article unveiled."
David Mach Precious Light: A celebration of the King James Bible 1611-2011 is on show at the City Art Centre, Market Street until 16 October 2011.
Since it opened on 30 July, the exhibition has been garnering rave reviews, with one journalist stating:
"Supposing you never see another exhibition, see this one – a great Scottish artist at the height of his powers." (Keith Aitken, Daily Express, 4 August 2011)