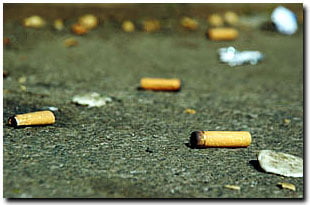 Environmental wardens in the busy Haymarket area of Edinburgh are encouraging commuters to 'bin their butts' in the latest anti-litter initiative to hit the city.
The operation is part of a series of anti-litter campaigns – to make the capital a clean and beautiful city to live and work in.
Ten tonnes of litter is dropped in the city centre area every week and smokers' litter is one of the top gripes of city residents and businesses.
Now, in a hard-hitting crusade, Environmental Wardens and officers from the British Transport Police will be handing out free 'mini-bins' and giving advice on smokers litter to commuters around the Haymarket Station area.
The new 'mini bins' will encourage people to dispose of matches, cigarette ends and packets properly rather than throwing them onto the street.
And there will also be joint patrolling in force to raise awareness of the cigarette littering problem.
Local businesses have also joined the Council scheme by displaying posters and encouraging customers to use bins rather than throwing away cigarettes onto the ground as they walk into shops and pubs.
Overall, it costs £2.4m a year to clean up all litter in the city centre alone.
Councillor Robert Aldridge, Environmental Leader at the City of Edinburgh Council, said:
"Our anti-litter initiatives have been running for a while now and have resulted in an improvement in the cleanliness of Edinburgh's streets. However it is still the case there is a particular problem with discarded cigarette ends in some parts of the city.
"We want the capital of Scotland to be a great environment for people to visit, live and work in and we want to encourage people to make small changes which will further improve the appearance of our streets.
"The vast majority of Edinburgh residents and visitors deserve a big thank you for using litter bins, keeping vigilant and letting us know about graffiti and other litter issues. But we are determined to continue to take the strongest possible action against the irresponsible minority who continue to litter our beautiful city."
Inspector Sue Maxwell of British Transport Police, said: "British Transport Police is happy to assist our City of Edinburgh Council and ScotRail colleagues in enforcing smoking restrictions within stations. This will encourage patrons to keep our railway clean and free from litter."
The Haymarket Littering exercise will run from today until 22 July 2011. Wardens will be out targeting commuters between 07.30am and 10.00am.
There is a £50.00 fine for anyone caught littering the streets of Edinburgh.
Last year, a week-long anti cigarette litter scheme on Rose Street led to a 70 per cent decrease in cigarette litter in the three weeks following the project.
And just last month, dog fouling dropped by 80 per cent in the Forth ward area of the city after another successful hard-hitting campaign.