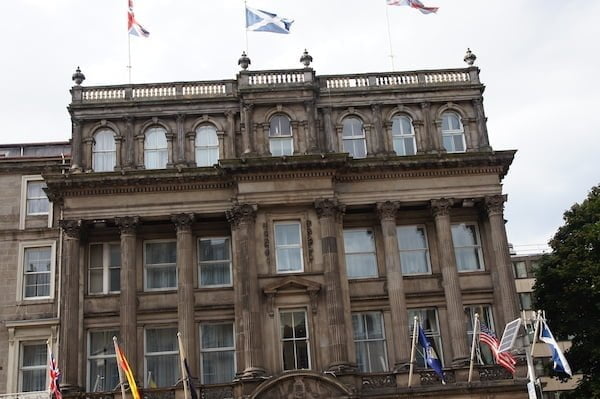 The George Hotel have just won a green award according to STV Local. They explain that 10 of the 150 employees at the hotel are responsible for ensuring green procedures.
Following the polar bear demonstration in the offices of Edinburgh oil firm Cairn Energy on Tuesday, the Court of Session yesterday granted an injunction to Cairn to stop Greenpeace posting any of their videos on Twitter or Facebook according to The Guardian. The protest against the company results from its Greenland operations. Greenpeace want to know what steps it would take in the event of an oil spill in the area. The protesters entered the company's offices dressed as polar bears and could be seen waving to media and passers-by from the windows. This resulted in a large police response with two police vehicles remaining present outside at 9pm on Tuesday evening. Meanwhile 17 people were charged at Edinburgh Sheriff Court and then all were released on bail.
Greener Leith offers some advice to dog owners who should bag it and bin it. Scoop your dog's poop. If you can think of a better phrase then do let us know. And if you see any on our city's pavements then you can report it to the council environmental wardens.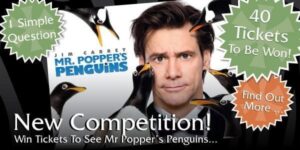 You have until 12 noon today to win tickets for Mr Popper's Penguin courtesy of Edinburgh Zoo. The winner will get free tickets for the showing of the film on Sunday at Cineworld.
Jonny Ensall, the editor of The List, has opened his front door to a Fringe act which will come to you. Yes rather than battling the crowds and having to leave your own hearth there is now a Fringe show which can be performed in your own living room. So that is that then. Put away your glad rags and stay at home this August. Except that we do wonder what happens if you don't really like the offering? Do you leave or do they?  Here they are just in case this might prove an attractive idea.
Edinburgh Fringe – The Lounge Room Confabulators from Stuart Bowden on Vimeo.