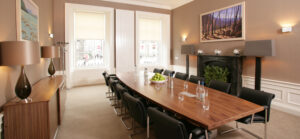 The Edinburgh building which once played host to the likes of Dougray Scott as it took centre stage in the film New Town Killers, has been transformed into a state-of-the-art business centre by local property development specialist Brian Cormack.
23 Melville Street, which was also the location for Bollywood hit 'The Season of Love', has undergone a £500,000 redevelopment to re-open as a series of contemporary serviced office suites and meeting rooms in the heart of the West End – just minutes from Haymarket.
The traditional Georgian building will officially open its doors this month as a high spec business centre, which the developers think is the first of its kind in the capital.  It also aims to provide a major boost for Scotland's economy as it prepares to launch a programme of future networking events – championing local entrepreneurs and UK enterprise.
The office suites, which will be available to rent on an ad hoc or long-term basis, are kitted out with the latest IT and telecoms, along with secure high speed broadband and administrative support, including full reception, telephone answering and mail handling services.
The meeting rooms can be hired hourly and are fully equipped with free Wi-Fi, Blue Ray DVD players, 50" plasma HD TVs and in-house conferencing facilities.
Edinburgh-born Brian, 47, who has spent the last year overseeing the project, is delighted to be able to bring this exciting new generation of executive suites to the city centre.
He previously transformed George Street's old Aitken & Niven store into four luxury flats.
He bought 23 Melville Street in 2007 but was approached by film makers before he could begin his renovations and found himself on set with Edinburgh man, Film Director Richard Jobson, as he filmed the story of two psychotic bankers who target a parentless teen on an Edinburgh housing estate.
Following the film's release, 23 Melville Street took to the spotlight again in 2008 after Brian was approached by Indian film makers.
The Lothian entrepreneur now has high hopes for 23 Melville Street – a project which he admits has brought an added element of excitement.
He said: "Not all my projects have had such dramatic perks as appearing as an extra in Newtown Killers with Dougray Scott!"