Monday 11 April 2011
Ceilidh Culture event at Merchiston Castle School at 11.15 a.m. Secrets of Performance. Like an actor in a play, performing music in front of a live audience is 'an act' and an art in itself. Learn useful tools for presenting on stage, including tips on preparing pieces, pacing, speaking and using humour, conquering nerves and being relaxed and "real" on stage. The workshop will cover practice techniques to increase your comfort level (musical safety-nets, vamps, exit points) for various performance demands (weddings, concerts, etc) that will help you be or at least ACT like a bold, confident performer.
Wonders of the Universe is being shown at The Filmhouse tonight. See Professor Brian Cox on the big screen. Although he himself will not be present there will be a Q & A after the film with Andrew Cohen BBC Head of Science
And again at Merchiston Castle School as part of the Harp Festival there is a performance at 19.30. Virtuoso harpist Catrin Finch is one of the most versatile musicians of today and formally the Royal Harpist to H.R.H. The Prince of Wales. On this occasion Catrin will play a solo programme including works by JS Bach, Debussy, Faure and Parish-Alvars. Robin Huw Bowen has championed the Welsh Triple Harp on a world-wide scale. Its three rows of strings, unique shimmering voice and dynamic repertoire speak directly to the heart, from wild Welsh Gypsy dances and old folk-songs, to elegant airs, dark laments and bright melodies.
Tuesday 12 April 2011
Central Library, Tuesday 12 April at 6.30pm
Desert Island Poems – join Reader in residence Ryan Van Winkle and friends (performance poet Harry Giles, master of sci-fi poetry Russell Jones, and SPL's own Peggy Hughes) as they share their favourite poems in a multmedia extravaganza. Free, but booking essential – call Annie Bell on 0131 242 8046 or email annie.bell@edinburgh.gov.uk to reserve your place
Wednesday 13 April 2011
Part of Ceilidh Culture at The Scottish Storytelling Centre at 14.30 Cafe Voices. Enjoy oral storytelling, poetry by memory, music and song in the relaxed ambience of the Storytelling Café. Hosted by Jess Smith.
At Merchiston Castle School at 19.30, as part of the Scottish Harp Festival, Laoise will perform material from her new album 'Ceis'. It gives a fresh lease of life to ancient airs, previously unheard for centuries, with new compositions from legendary fiddler Tommy Peoples. The Poozies are back to entertain and enthral you with their strongest line-up yet. These pioneers of musical diversity will leave you breathless, with Eilidh Shaw (fiddle), Mairearad Green (accordion), Sally Barker(guitar), Patsy Seddon (harp/fiddle) and Mary Macmaster (electro-harp/ clarsach). The winning entry in the Clarsach Society's 2010 Young Composers' competition will also be announced and performed.
Thursday 14 April 2011
After Dolly is at the Informatics Forum at 18.00. Genetic modification of animals raises controversial ethical questions. Join bio-ethicist Peter Sandoe from Copenhagen University and Bruce Whitelaw, from the institute that cloned Dolly the sheep, to explore this fascinating topic. Take part in the debate and express your views to those directly involved in animal research.
You have until today to enter this coming weekend's endurance run The Kilomathon. The Mini at 2.6km sounds quite appealing…..
Friday 15 April

7.00pm at Reid Concert Hall Bristo Square Edinburgh. Tickets £10. NEW FRONTIERS is a journey, an odyssey. Set against a backdrop of spectacular imagery, Peter Cairns reveals not only some of the most memorable encounters from ten years as a professional wildlife and conservation photographer, but how those encounters have shaped his thoughts about our own, changing relationship with the natural world.
This stunning event for our opening evening will be one that you will not want to miss. Join us at The Reid Concert Hall in Bristo Square, Edinburgh from 7pm (doors open at 6.30).
Peter will present his AV show and then will be available for questions.
Tickets are £10 with concessions £8. For more information and to purchase tickets please see http://www.firstfoot.org.uk/new-frontiers-with-peter-cairns.html
Today sees the start of the inaugural Sustainable Living Week.
Bang Goes the Theory Live is on this weekend at the Assembly Hall. Admission is free but you need a ticket.
Saturday 16 April 2011
As part of Sustainable Living Week you could help build a mosaic out of Lego at the National Gallery.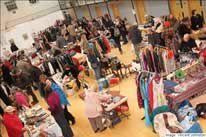 Or you could go to the Out of the Blue Drill Hall to their Flea Market or the Greener Leith indoor local market.
Sunday 17 April 2011
Edinburgh Youth Orchestra Spring Concert 2011
Sunday 17 April 7.30pm
Join the Edinburgh Youth Orchestra as it makes a  return to the Usher Hall with an inspiring programme of music by Berlioz, Bartók and Shostakovich.
This year's popular Spring concert, conducted by Sian Edwards, opens with Berlioz's rousing Roman Carnival Overture, filled with all the joy and celebration of the Italian carnival crowds. Acclaimed pianist Joanna MacGregor makes her Edinburgh Youth Orchestra debut with a performance of Bartók's beautiful Third Piano Concerto.
"Joanna MacGregor is one of the most exciting and enterprising pianists of the moment." The Observer
Shostakovich's grand Symphony No 10 in E minor brings the concert to a close in spectacular fashion.
Tickets £12 – £15 (concessions available).
Call the Box Office today on 0131 228 1155 or Book Online