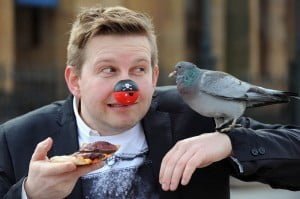 Edinburgh's La Favorita pizzeria has created a one-off pizza with an unusual topping to help a popular Scottish comedian 'Do something funny for money' and raise funds for Comic Relief.
The Leith Walk restaurant was approached by Greg McHugh, star of BBC's hit show Gary Tank Commander, to make a pizza with a pigeon topping in homage to the shows catchphrase '…do you do pigeon pizza? Nuh?'
The stunt was organised by the Edinburgh Evening News and the pizzeria kindly donated their time and money in order to create the pizza which helped raise funds and awareness for Comic Relief.
La Favorita currently provides support and fundraising opportunities for several of Edinburgh's charities, including Radio Forth's Cash for Kids Appeal and has so far raised over £12,000 for the charity which helps disabled and disadvantaged children in Edinburgh, the Lothians and Fife.
Owner Tony Crolla said: "To have been given the opportunity to help raise money for Comic Relief is fantastic. At La Favorita we always ensure that we give something back to the community and have been involved in several fund raising events since we opened in 2003.
"Pigeon is probably the most unusual request for a pizza topping we have had at the restaurant. Hopefully Greg enjoyed his pizza and that he was able to raise some money for the charity.
"Since the piece appeared in the Edinburgh Evening News we have had a handful of customers asking for pigeon pizza – so who knows we may have just started a trend."