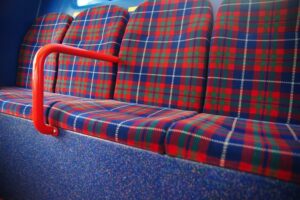 From Sunday 3 April both Lothian Buses and First in Scotland East will be revising their fares across Edinburgh and the Lothians.
Having last set Adult fares in January 2009, Lothian Buses are set to raise prices for most of their tickets. The cost of an Adult single ticket will rise from £1.20 to £1.30, Adult day tickets will rise from £3.00 to £3.20 each, while a weekly Ridacard will now cost £16, previously £15. However, there are to be no increases in the cost of either Student or Child fares.
The fare revisions are explained by Lothian Buses as the inevitable consequence of current economic conditions. The company's website states that, since the last time fares increased, the Retail Price Index has risen by more than 9 per cent and the cost of fuel has moved up by more than 40 per cent. Ian Craig, the Managing Director of Lothian Buses, said: "The quality of our service which we are committed to providing for our customers comes at a cost and we have now reached the point where we have to increase the prices of some of our tickets to ensure that we can continue to match the high standards which our customers rightly expect." He also noted that, in the preceding two years, the company has invested just under £15 million on 80 new buses.
First in Scotland East will be making similar changes.
In Zone M, which covers Edinburgh, Midlothian and parts of East Lothian, an Adult single ticket will also increase, from £1.20 to £1.30 (apart from service 86/86A, where the cost of this ticket is already £1.30), while an Adult FirstDay ticket will rise from £3.00 to £3.20 (FirstDay tickets on services to South Queensferry and Kirkliston will now cost £4.80).
Single fares outside Zone M are also to increase by 10p. However, return tickets that cost over £3.10 are to be calculated according to a different formula, which will result in cost savings.
Child single fares within Zone M are to be discounted, from 80p to 70p.
Paul Thomas, Managing Director of First in Scotland East, stated: "We have worked hard to minimise the impact on passengers and have kept fares the same where possible and have kept any increases to an absolute minimum."
For more information on these changes, visit the Lothian Buses website, or the First in Scotland East website.