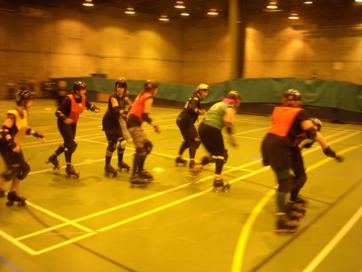 Formed in 2008, the Auld Reekie Roller Girls is the only flat track roller derby team in Edinburgh. They are a skater-run, not-for-profit team of around 40 to 50 women, who all want to have fun and get fit with this exciting new sport. As one of the bigger Scottish teams, they have played bouts (matches) against other UK teams such as Aberdeen, Glasgow and London.
On 16 April 2011 ARRG are organising 'Gore-onation Street', at Meadowbank Stadium. You can buy tickets and get more information about the event on their Facebook page.  ARRG said:-"Auld Reekie Roller Girls are back with another skate busting, live, full contact, roller derby bout which sees the Twisted Thistles take on the might of the Rainy City Roller Girls from Manchester!"
Originating in America, roller derby is a women's sport, which developed in the 60s and 70s as a form of sports entertainment. There are two types, flat-track and banked-track and consist of two teams, skating around an oval shaped track, with 'jammers' and 'blockers'. With  one for each team, the aim of the jammer is to break through the pack. It is played at high speed and is a full-contact sport, although there are 'illegal' zones of contact. It is predominantly a female sport, although men can get involved refereeing, and there is also men's roller derby or "Merby".  The sport is now worldwide and popular in Australia, Germany, and Switzerland.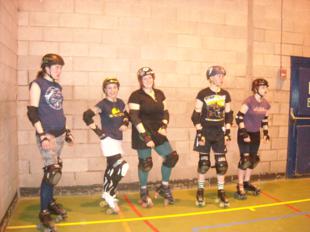 Part of the roller derby culture is to create your own name and number. The nicknames are players' alter-egos, and as women rarely have the opportunity to be aggressive, it creates a persona; they can be whoever they want to be. But what's more is they don't actually know each other's real names and address each other by their 'skater names' at all times. No two people in the world can have the same skater name, and there is even a register. So if a name is even too similar to another skater's name, they must email that girl for permission to use it. Players also sometimes dress up in costumes with face paint which is again just for fun and part of the culture.
Aly-lou-yeah, 25, who joined the Auld Reekie Roller Girls in April last year, said: "I can't seem to motivate myself to go running, so roller derby is a good way to get fit and have fun at the same time". She described it as "rugby on wheels with no ball" and said it wasn't 'exclusive' in the sense that unlike other sports, "you don't have to be naturally athletic, and everyone progresses in their own time". She heard about it through friends,went along to a bout (match) and then signed up.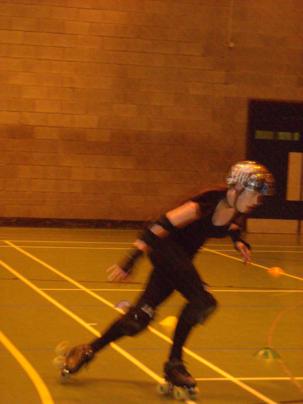 Blazin' Phoenix, another Auld Reekie player, had a stroke a few years ago and needed something that could get her fit again. She said: "I couldn't face the gym. The main thing about skating is that it's great fun."
The roller derby community is almost like a global family who are constantly in contact.  BriVCrackya (Cambria), a player and Demonoid Phenomenon (Michael), head referee of  Nevada team Battle Born Derby Demons, who came to watch the ARRG said: "it's fairly standard that people from various roller derby teams go to watch each other if they're visiting that country. If we were touring the UK, we could probably stay with a different derby girl in every city. It's sort of an unspoken family."
The Auld Reekie Roller Girls are currently looking for sponsors, which would enable them to get hall space for games and practices. As good as the Jack Kane Centre has been, a permanent venue would also allow them to move forward. They are always keen for new skaters. Anyone can join over the age of 18 years old and Edinburgh is popular as its one of the bigger teams. New skaters must go through the website and email the new skaters comittee.
Just in case you are really keen here is what it really looks like…..