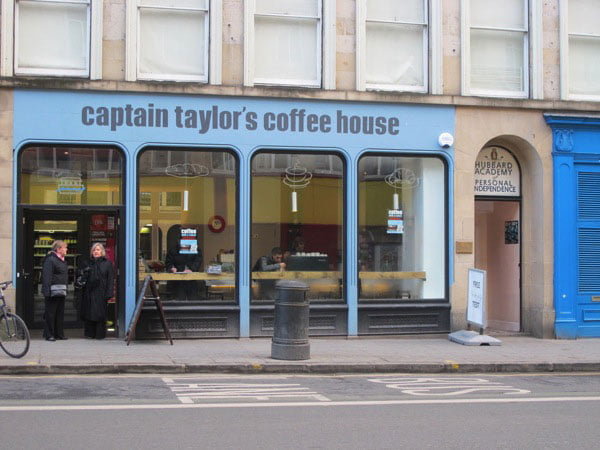 Streetwork has officially launched the city centre coffee shop and takeaway which was set up last summer, but which has been in their thoughts for some time.
The coffee is locally sourced, as it comes from Artisan Roast in Broughton Street. The staff are headed up by one of Artisan Roast's former baristas, and the coffee shop was opened today by Miss Edinburgh, Fiona Dickie. You really could not get more local if you tried!
The long-term goal is to staff the shop with  Streetwork clients, offering employment for them. The charity urge you to "Buy a cup of coffee, change someone's life."
Streetwork's long-term vision includes providing a training & employment scheme for the homeless, plus crucial funding for their core services.
We spoke to the interim CEO of Streetwork, Gordon Watson.
The charity say:-"In summer 2010 we opened the first phase of our new social enterprise project, Captain Taylor's Coffee House. Located in Edinburgh's city centre it is a takeaway coffee & sandwich/snack shop. All profits from this commercial venture are directed back into the work we do with disadvantaged and homeless people in Edinburgh. We aim to provide top quality coffee and snacks at fair prices in a welcoming atmosphere. In the 1930s Edinburgh's Captain Charles Taylor bequeathed his entire fortune to assist and care for those in need, and in doing so the Old Sailor's Ark was created. We are proud to continue the work that Captain Taylor began and named our new coffee house in his honour.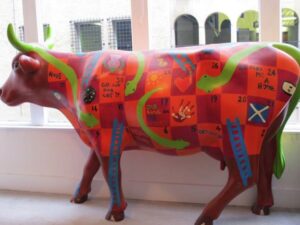 Captain Taylor's offers superb coffee from local supplier, Artisan Roast, a selection of freshly prepared and home-baked snacks and FREE WI-FI. All served up by super-friendly people! Please come see us and make a difference to the lives of some of Edinburgh's most vulnerable people just by buying a cup of (fantastic) coffee."
The charity try to help their clients establish a "life off the streets", and this is certainly a good way to do it.
Their mission statement is "To go to where those at risk on the street are and work with them towards positive change, on their terms, at a pace that suits them, and in a way that achieves the highest possible standards of service."
Streetwork UK was set up in 1992 to tackle the problem of youth gangs in Edinburgh's city centre but they very quickly found many young people out there in severe crisis, sleeping outdoors, involved in prostitution, underage runaways, injecting drugs and involved in crime.
They also have a drop-in centre at 4 Bellevue Street, Edinburgh EH7 4BY for young people who find themselves sleeping rough. The charity provides sleeping bags to the homeless, but more often their workers will sit down with the homeless person to find out what has happened to them in their life. By finding out more, the charity hope to help them in a more proactive way than just finding them a bed for the night..
In addition they assist women who may have been subjected to domestic abuse. "Our Women's Project is both street based and drop-in so we can meet with women at times that suit them and at their pace. Often a woman meets us when she is in crisis and the priority is a stable and safe base on which to think about future steps."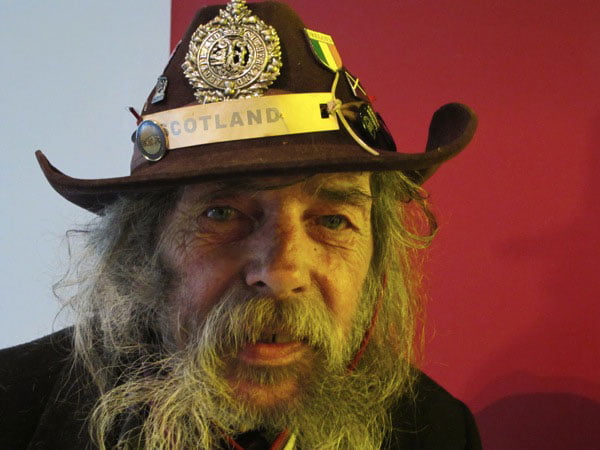 A client of Streetwork for many years, Lewis Livingston, has nothing but praise for the work the charity does for him. "They came to my door at Chrsistmas time, when I was lying ill in my bed. They realised noone had seen me about the streets for a day or two. They put a wee letter through my door, and then came back to bring me a box of groceries and put money in my electric meter. They are wonderful!" Lewis was also very happy to get a Scotland badge from Justice Secretary, Kenny McAskill, who popped into this morning's event.
Streetwork is supported by The Scottish Government and The Big Lottery.
You could help by buying a coffee today and they also have a lovely event space downstairs which can be hired for parties and corporate events.