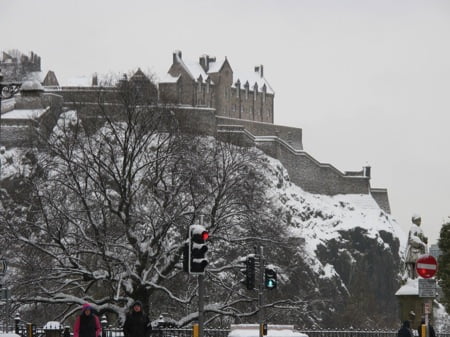 The MetOffice weather forecast for Edinburgh today is the following:-
"A band of wintry showers will spread southeast early on Monday morning, the showers turning increasingly to snow away from the west coast. Initially the showers will fall onto frozen surfaces with widespread ice developing on untreated roads and pavements, and accumulations of 2 to 5cm of snow are expected, locally 10cm over the hills.
The public are advised to take extra care and refer to Traffic Scotland for further advice on road conditions."
But then you all know this!
It has not stopped snowing since 7.30 am so here is our Snow News page for today. We will update as the day progresses. We are interested in hearing your news – is your event cancelled or are you doing something to help others who are snowbound?
As at 6.00pm
The Council advise the following:-
"Most of Edinburgh's schools are to open fully on Tuesday with a few exceptions. All special schools will be closed.
*STOP Press* Clovenstone Primary closed but its nursery will be open.
The aim is to open as many schools as possible so we can provide our service. Parents should make their own judgement about whether to send children to school as we understand that it may be very difficult to make the journey. Pupil absence will be recorded as authorised in what are obviously very difficult circumstances.
Home to school contract bus companies will provide transport for registered students. This is of course subject to change if the weather impacts on the service.
All staff should continue to report to work. If staff cannot report to their usual place of work then they should go to the nearest City of Edinburgh Council school.  If staff are experiencing difficulties getting to work they should contact their Head Teacher.
All pupils should bring a packed lunch.
The situation is as follows:
Secondary schools
All secondary schools are set to open for S1-S6 on Tuesday except the following:
Queensferry High – Closed
Liberton High – open to S4-S6 only
Balerno High – No transport for pupils who take private bus from Livingston & Mid-Calder
Primary schools
The following primary schools will be closed tomorrow:
Dean Park
Ratho
Prestonfield
Murrayburn
The following primary schools will open but please note the following:
Craigour Park – No breakfast club
Crammond – No nursery class
Gracemount – No breakfast club
Gylemuir – No nursery class
South Morningside – No nursery class
St Katherine's – No nursery class
St Mark's – No nursery class
St John Vianney's – No nursery class
St Cuthbert's – No language class
Nursery schools and Child & Family centres
All are open except Spinney Lane which will be closed.
Special Schools
All special schools will be closed on Tuesday. The situation will be reviewed ahead of Wednesday.
Community Centres
The following City of Edinburgh Council community centres will be closed:
Ratho
Roseberry Hall
Inch
Jack Kane
Bingham
Castleview
Magdalene Rannoch
Kirkliston
Norwood Wing
Craigmount Wing
Juniper Green
All evening lets in primary schools are cancelled this week. Daytime adult education classes will run as normal, as will evening classes running in open community centres. Evening classes based in schools will not run next week.
Community events/meetings
Anyone looking to attend external events normally hosted in schools, e.g. councillor surgeries or community groups, should check if they are going ahead.
Local residents have been praised for keeping up their community spirit during the bad weather.
From clearing snow to checking on vulnerable neighbours, locals have been out in force, battling the severe conditions to make a difference in their local areas.
Councillor Robert Aldridge, Environmental Leader, said: "I would like to thank everyone for their patience; we recognise the frustration that people may have with such a lot of snow falling in such a short space of time. People have been showing real community spirit by being good neighbours to vulnerable people and helping out by driveways and paths.
"We had 500 Council staff and contractors out today and 350 workers out each day over the weekend working flat out to keep the city moving. Gritters were also out in force on category one and two routes. Workers from local neighbourhood officers have also been volunteering to help with relief efforts. I would like to reassure the public, that we have record numbers of staff working hard around the clock to clear the streets as quickly as we can."
Further severe weather updates
Waste Collection
Collecting refuse has been proving to be extremely difficult during the severe weather. All the refuse collection fleet were out for nearly three hours this morning but had to turn back as the roads become increasingly unsafe. For an update on refuse collections please see our severe weather pages.
Roads
Staff are working round the clock to keep the city's main roads clear.
Over the weekend, each day, around 350 Council staff and contractors with excavation equipment carried out snow clearing work on Category one and Category two routes. We have around 500 staff and contract workers out today.
Last night a full fleet of gritters were treating all Category one roads.
The Council has used around 2800 tonnes of salt since the start of the winter.
Extra staff have been allocated to work on snow clearing. Mechanical plant i.e. JCBs are being used to excavate and remove snow to gain access to many routes.
Anti-Social Night Noise Service
The service will be suspended on Monday 6 December due to adverse weather conditions. The situation will be re-assessed Tuesday 7 December 2010.
Health and Care Services
Emergency household supplies will be delivered to vulnerable people if they are assessed as needing supplies after contacting Social Care Direct. The supplies are being purchased from Tescos and the Council's own staff and Red Cross volunteers are helping out with deliveries.
As a result of the severe weather, there will be no transport to any Council owned or voluntary day centres this week due to the risk this would pose to service users. The situation will be reviewed on Wednesday. Staff have been redeployed to assist home care teams or with the delivery of emergency food supplies. Our home care and re-ablement staff are reprioritising case loads to ensure emergency cases are covered such as meals and personal care.
The Council continues to provide home care to vulnerable people with considerable help from the Pentland Rangers and charities like The Red Cross and Lothian 4×4 Response.
Anyone who is concerned about someone who they feel should be getting assistance can contact the social care direct team at the Council on 0131 200 2324, and staff there will arrange appropriate follow up. In the evenings and weekend contact can be made with the out of hours service at 0800 731 6969.
Library Service
The following libraries are closed today: Kirkliston, South Queensferry, Currie, Ratho, Corstorphine, Morningside, Craigmillar, Gilmerton and Moredun.
There will be no mobile library, Library Link or housebound services today. Situation will be reviewed tomorrow."
As at 2.30
Delays on many roads including Ferry Road, A8 westbound, A90 westbound Quality Street Whitehouse Road and Maybury Road. Follow @edintravel on Twitter for updates.
Broughton Spurtle brings you up to date about the area in the snow in its online article here.
Edinburgh Schools open but Council would like children collected early. They have also said:-"Some schools have had to close and have been contacting parents directly.  Updates will continue.
We will continue to assess the situation and we will issue another update around tea time about plans for tomorrow."
Edinburgh Airport still closed but Glasgow has reopened – although all flights may not be operative and you should check.
Penguins at Edinburgh Zoo have decided the snow is too much for them and have gone inside…
Tonight's Christmas Show by Dance Base at The Queen's Hall has been cancelled.
People reported stuck in cars on M80……according to tweets.
Lothian Buses still reporting that no services operating.
Filmhouse still open!
Edinburgh Businesswomen's Club have postponed their event this evening at The Balmoral till Monday 13th…
St Columba's Light a Light ceremony cancelled in Charlotte Square although some poor soul is apparently going to switch the lights on without ceremony!
Forth Road Bridge may open later this afternoon.
As at 12.30
Blackhall Library was not open today due to snow and other Edinburgh Libraries will close at 4 o'clock today.
Granny Green's Big Night Out at The Lot is cancelled tonight.
Bruntsfield Road is blocked by a lorry so there is no traffic moving towards Morningside.
The Botanic Gardens are closed.
Edinburgh Zoo is closed so you will have to resort to the very popular penguincam for your entertainment.
Scotrail has many disruptions and you will have to check before you try to travel by train.
Edinburgh Airport is closed and will reassess the position at 4pm.
Edinburgh's Business Women's Club has a few empty places at their Christmas party tonight for anyone who wants to "display your goods". You may have to contact them through their website about this!5-8.00pm – If you want to go along it is £10 for champagne and shopping.
A90 – long delays westbound from Blackhall to Forth Road Bridge. Police report all routes to & around Bridge severely congested
M8 Eastbound is closed – check @edintravel for updates
Lothian Buses have stopped all services till conditions improve. More information on their website.