by Thomas Haywood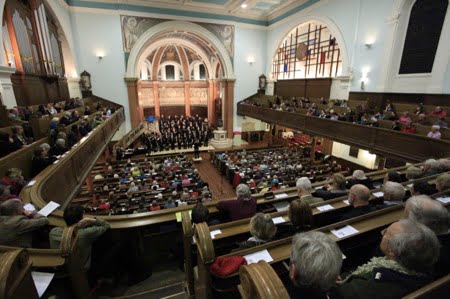 I was attending the lovely St Cuthberts Church last Saturday to take photographs for Waverley Care when the results of a competition to write a new carol were announced. The carols, all of which were receiving their world première, were performed by Edinburgh-based choir, Cadenza, conducted by Jenny Sumerling. The evening was compered by TV presenter, Stephen Jardine,
The charity has been running a Christmas carol writing competition called Sing a New Song, in celebration of their 21st birthday. The judges' winning carol was The Virgin's Song written by Hermione Roff. Runner-up was This Endris Night by Stef Conner. The Caledonian Hilton Audience Prize went to John Hearne with his carol, There's a Song in the Air.
The programme explained the background to the composer of the winning carol:-"Hermione Roff – The Virgin's Song This carol is shaped by the intense, contrasting moods and emotions of the poem. Here, Mary, a new mother of a baby born in poverty, sings both a lullaby and an indignant protest song. She is full of love and tenderness as she sooths her baby, giving Him everything He could possibly need. She is outraged at the circumstances of His birth and the inability of someone of her social class to provide for His physical needs. The music echoes these strong emotions in the contrasting phases of a sorrowful lullaby and the stronger harmonic sequences of protest. There is a similar juxtaposition of dynamic and tempi. In the end she quietly rocks and soothes her baby in devotion and love and gratitude.
Hermione Roff has always been interested in music and singing. As a teenager she joined the local Choral Society alongside her mother and it was a highlight every Tuesday to go along and sing works like the Bach Passions and Gerontius and music by composers like Britten and Faure.
Wherever she has lived she has always sought out a choir to sing with. She finds it a joy to sing about things she believes in and can enter into, in an emotional and intellectual way.
As a composer she has written several short pieces for choirs and also for special family occasions making use of whatever talent is available.
Most of her working life has been spent as a Senior Research Therapist within Academy Child Mental Health services in the NHS. She lives and works in Lancaster."
The other three short-listed composers were Ian Assersohn, John Lawson Baker and Owain Park.
The winning carol was chosen by a judging panel consisting of Bob Chilcott, James MacMillan and Simon Woods, following initial shortlisting by Tom Cunningham and Jenny Sumerling.
The event also included performances by the'Come & Sing' choir of music by Bob Chilcott, John Rutter and Vaughan Williams, conducted by Waverley Care's newest Patron, Bob Chilcott.
Sing a New Song was sponsored by Sir Tom & Lady Farmer.
The full programme of the event is below. Click Full Screen to access it