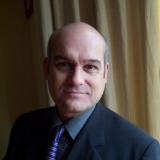 High street solicitor, Austin Lafferty, is to become the new Vice-President of the Law Society of Scotland following a ballot of the members of the Society's Council.
Austin Lafferty was declared the winner of the election during a full Council meeting and will take up post in May 2011. Council member for Dumbarton, David Newton came second in the contest, with Lanark and Hamilton Council member Oliver Adair third.
A solicitor for almost 30 years, Austin Lafferty leads a general high street practice with offices in Glasgow and East Kilbride, providing a range of legal services, including conveyancing, employment law, civil work, litigation and family law. He previously worked in both summary and solemn criminal law and is well known for his frequent appearances as a legal commentator on BBC and STV. He was elected to the Council of the Law Society of Scotland in 2006 representing the constituency of Glasgow.
Speaking about his election as Vice-President, Austin Lafferty said,
"I am delighted to have been elected and would like to thank my colleagues for putting their trust in me. The Law Society of Scotland is a proud and respected organisation and it will be a huge honour to serve as Vice-President from next May.
"I want to express particular thanks to David Newton and Oliver Adair, who ensured an open election and a proper exchange of ideas could take place. Through their respective roles in convening the Law Society's Law Reform Committee and Legal Aid Negotiating Team, both David and Oliver give a huge amount of their time and make an enormous contribution to the work of the Law Society. I am looking forward to working with both of them and benefiting from their immense expertise over the coming months and years.
"The last year has been difficult for the profession and a year which has shown divergent views on the role of the Society as both a representative and regulatory body. However, I believe it is time to move on from these disagreements and for the profession to come together, not least so we can be united in tackling the significant issues that face the profession over the coming months, including significant cuts to the legal aid budget and the implementation of the Legal Services Act.
"Working with the new President Cameron Ritchie, I am looking forward to playing my part in meeting these challenges."
Current President of the Law Society of Scotland, Jamie Millar said,
"I warmly congratulate Austin on his election as Vice-President. As a high street practitioner, Austin brings a wealth of experience across a broad spectrum of areas. He is well known as an effective communicator and someone who cares passionately about the solicitor profession. In Austin Lafferty and new President Cameron Ritchie, we will have a strong and effective team leading the Law Society of Scotland.
"I am also grateful to David Newton and Oliver Adair for standing in the election. Both David and Oliver are distinguished and highly respected members of the profession. I am looking forward to their continued contributions, both on Council and through their particular roles within law reform and legal aid."
You can also watch Austin on video…