Here are the updates on what is happening and what is not in Edinburgh at the moment. We will update here through the day. Please let us know if your event is either going ahead or has had to be cancelled. Email us at theedinburghreporter@gmail.com
Edinburgh Farmer's Market tell us:-"Edinburgh Farmers' Market looks set to go ahead on Saturday – there will be limited traders and due to the adverse weather conditions will be trading from vans rather than the usual stalls. Watch this space for further updates, as soon as we have confirmation we will let you know"
The update on Lothian Buses is here…..
THE AIRPORT IS TO OPEN AT 4PM TODAY THURSDAY…
Up to date news from The City of Edinburgh Council now at 15.30 as follows:-
More Council contractors have been brought in – to up the efforts and help clear snow from some of the worst hit neighbourhoods in Edinburgh.
At the weekend, Council contractors who usually work on general repairs were drafted in with JCB vehicles to supplement the 75 road staff, 180 task force staff and 90 refuse staff already re-organised to boost snow clearing efforts.
Today, an additional 100 Council contract workers have been brought in to move the mountains of snow in the South-West, South and West neighbourhood areas.
Gritting staff are also out in force, working throughout the night to clear priority roads and pavements.
Councillor Robert Aldridge, Environmental Leader, said:
"We are working 24/7 to clear the worst snowfall Edinburgh has seen in a very long time. Additional resources have been brought in, especially to some of the worst hit areas of the city to help clear roads and pavements. The public and local businesses can also do their bit to help clear drives, pathways and pavements and to keep a look out for their elderly neighbours during this tough winter period."
City residents can also help to clear snow in local communities. Concerns were raised last year that if someone was to slip after snow had been cleared by a member of the public, the person who cleared the snow could be liable for damages. This is not the case, as anyone clearing snow is attempting to make the area safer for neighbours.
Waste Collection
Waste Collection has been operating a reduced service.  However, Refuse workers have been helping with snow clearing. For an update on refuse collections please see our severe weather pages: severe weather pages
Roads
Staff are working round the clock to keep the city's main roads clear.
Extra staff have been allocated to work on snow clearing. Mechanical plant i.e. JCBs are being used to excavate and remove snow to gain access to many routes.
The Council has used around 2800 tonnes of salt since the start of the winter. During the current bad weather we are using an average of 600 tonnes per day.
Health and Care Services
There is no transport to any Council-owned or voluntary day centres for the rest of the week due to the risk it may pose to service users. However, staff are reporting to work and are contacting all service users and families. Staff will be assessing whether vulnerable adults and older people require any additional assistance and are taking appropriate action.
All social work centres are open and our home care and re-ablement staff are reprioritising case loads to ensure emergency cases are covered such as meals and personal care. Our care homes are all open despite some access difficulties.
Anyone who is concerned about someone who they feel should be getting assistance can contact the social care direct team at the Council on 0131 200 2324, and staff there will arrange appropriate follow up. In the evenings and weekend contact can be made with the out of hours service at 0800 731 6969.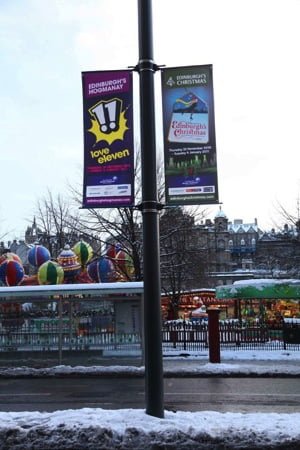 New banners have been installed on tram power-poles on Princes Street in preparation for Hogmanay. This year's celebration will include appearances from BIFFY CLYRO, KT TUNSTALL, THE CORAL, DOUGIE MACLEAN, BOOKA SHADE, THE CHARLATANS, TREACHEROUS ORCHESTRA, IAN RANKIN, TOMMY REILLY, BILLY BRAGG and ROODY WOOMBLE and tickets are on sale now at Edinburgh's Hogmanay. Well at least the poles are being put to some use…..
Yes The City of Edinburgh Council is definitely clearing snow – here are some workers in Princes Street earlier today…..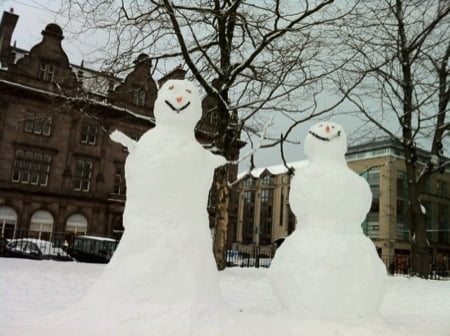 Edinburgh City Libraries are to close today at 4.30pm. MOre news on this and a lovely photo of a snow covered library on the Tales of One City blog.
Musselburgh Racecourse have been in touch with us to advise:-"We have abandoned our next National Hunt meeting which was due to take place on Monday. (Dec 6).
A track inspection planned for tomorrow (Friday) was brought forward and course officials took the decision after forecasts of more snow fall in East Lothian and little prospect of a thaw over the weekend.
Musselburgh's next race meeting in scheduled for Wednesday December 22."
Members of staff at Aquamarine Power have been out in St Andrew's Square building snowmen this lunchtime. The wave energy firm have about 50 staff working in their office and decided to embrace the snow rather than just stay inside. Here are their snowmen on the left!
What have your staff been doing in the snow? Have they all got to work as usual or are they working from home?
The Guardian Edinburgh has a round-up of news as at this morning including the news that the roof at Prestonfield Hotel has collapsed!
A plea has come from the City of Edinburgh Council's Health and Social Care leader, Councillor Paul Edie, to encourage people in Edinburgh   to check on vulnerable neighbours as the snow and freezing weather continues.
He said:- "With the unprecedented snowfalls and freezing weather, now is the time for everyone to show their true community spirit by helping vulnerable neighbours who may be facing difficulties over the coming days.
"This is why I am urging everyone to offer a helping hand or even just a friendly face to neighbours who may be in need. Social responsibility in action doesn't cost anything but can make a real difference to someone's life.
"Checking if an elderly neighbour upstairs would appreciate a pint of milk from the shops when you are going anyway would only take a minute. Or they may simply appreciate a friendly chat but don't want to bother anyone.
"Of course, our dedicated social work services staff are continuing to care for the elderly and vulnerable, making sure that they are well looked after either in care establishments such as sheltered housing, or in their own homes.
"In an ideal world, the authorities would be aware of every person who needs help, but they can only do so much. Some may slip through the net because they have never been in contact with the services before.
"Anyone who is concerned about someone who they feel should be getting assistance can contact the social care direct team at the Council on 0131 200 2324, and staff there will arrange appropriate follow up. In the evenings and weekend contact can be made with the out of hours service at 0800 731 6969."
This news from Marchmont & Sciennes Community Council:-"The Gillespies choir is unable to make Saturday and given the continuing weather and conditions we are not going ahead with the inside concert.  The Christmas Tree lighting has already been cancelled by City of Edinburgh Council due to the weather.
The scheduled MSCC meeting next week is also in doubt – it looks very unlikely if this current weather continues."