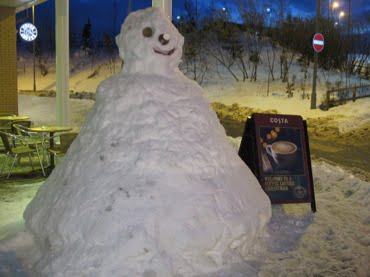 We are pleased to say it stopped snowing on Monday afternoon in central Edinburgh. But has it melted where you are? Some of our readers say that their pavements and roads outside have been untreated throughout the blizzards of the last few days. Have you had any other travel woes? Let us know what is happening where you are by commenting below….
Today the news from all official sources will be collated here for you and will be updated as and when we get it. So keep coming back!
Army vehicles are to be brought in to assist the Scottish Ambulance Service in the current severe weather conditions.
Ambulance staff will be driven to patients by army drivers in military 4×4 vehicles and will transfer patients to appropriate care. The support is being provided in the central belt while the snow and freezing conditions continue to hamper ambulance crews.
Cabinet Secretary for Health Nicola Sturgeon said:-"I welcome news that the army will provide 4×4 vehicles for the Scottish Ambulance Service as part of the all-Scotland effort to keep the country moving during the severe weather conditions.
"The Scottish Ambulance Service is working tirelessly to ensure patients get the help and the care they need. Ambulance crews across central Scotland will now receive operational assistance from the military to help to overcome the difficulties in retrieving patients.
"We must all work together to overcome the difficulties and I would urge the public to only call 999 if it is a genuine emergency." (that rules out the woman who dialled 999 to report the theft of her snowman……)
As at 5.00pm The Council have issued an update:-"Edinburgh has experienced the worst snowfall since 1963 and gritters are working 24 hours a day to keep the city moving.
Main roads (Category 1) were gritted 4 times in 24 hours in preparation for the snowfall. The forecast was for 2 hours of snow showers but we experienced a 7 hour heavy fall.
Last year, we had ten inches of snow over four weeks in the city; so far this year, we have had around 18 to 30 inches across the city in just over one week alone.
Over 600 Council workers and contractors were today working to get roads clear. Overnight there was a total of 29 staff working with 22 gritters clearing the roads.
In addition, 12 JCB's and a number of other specialised equipment vehicles were deployed to excavate snow before it is ploughed.
Euan Kennedy, Road Services Manager at the City of Edinburgh Council, said: "We really hope that the met office reports, of no more snow this week are correct, so that we can get on with the task of clearing Category 2 and 3 routes. Our staff and contractors have been working really hard over the last few days to keep the city moving. It is hard, labour intensive work as the snow often has to be excavated before it is ploughed.
"We would urge the public to be aware that we are doing the best we possibly can in extreme circumstances. The public should be reassured that we have record numbers of staff out clearing the streets, working as quickly as they can."
Refuse
We have been able to provide a limited service for household and trade rubbish bins and recycling boxes in the city centre and on main roads(category A roads), but unable to reach side streets or housing estates for a number of days. We apologise for this disruption to our service and are doing everything we can in the circumstances.
Refuse collection is dependent on road conditions as in most cases large refuse collection vehicles cannot negotiate access to icy roads or roads with large amounts of snow.
Priority attention is being given today to clearing snow to gain access to bin stores in multi story blocks for refuse vehicles to prevent the build up of refuse.
Refuse staff are removing excess waste from 'on street' bins that are full or overflowing where access is possible. For an update on refuse collections please see our severe weather pages.
Roads
This year, the Council has increased salt storage from 5,200 tonnes to 7,200 tonnes.
There are 1,440 kms of roads and 2, 770 km of pavements in the Edinburgh to prioritise. They are prioritised according to height above sea level.
Roads staff have been gritting and clearing snow 24 hours a day since Friday 26 November.
Health and Social Care
Emergency household supplies will be delivered to vulnerable people if they are assessed as needing supplies after contacting Social Care Direct. So far over 40 have been delivered by the Council's own staff and Red Cross volunteers.
As a result of the severe weather, there will be no transport to any Council owned or voluntary day centres this week due to the risk this would pose to service users. The situation will be reviewed tomorrow. Staff have been redeployed to assist home care teams or with the delivery of emergency food supplies. Our home care and re-ablement staff are reprioritising case loads to ensure emergency cases are covered such as meals and personal care.
The Council continues to provide home care to vulnerable people with considerable help from the Pentland Rangers and charities like The Red Cross and Lothian 4×4 Response.
Anyone who is concerned about someone who they feel should be getting assistance can contact the social care direct team at the Council on 0131 200 2324, and staff there will arrange appropriate follow up. In the evenings and weekend contact can be made with the out of hours service at 0800 731 6969.
All but a small number of Edinburgh's schools are to open fully on Wednesday. Adult education and other updates here too.
Our aim is to open as many schools as possible so we can provide our service. Parents should make their own judgement about whether to send children to school as we understand that it may be very difficult to make the journey. We want to see as many pupils as possible at school but absence because of snow difficulties will be recorded as authorised.
Home to School contract bus companies will provide transport for registered students. This is of course subject to change if the weather impacts on the service.
Lunches will be provided in all schools except the following – St Catherine's, St Ninian's, Craigentinny, Buckstone, Granton, Gilmerton.  Pupils at these schools should bring packed lunches.
We are getting reports that some pupils are not dressing appropriately for the weather. Temperatures are forecast to drop very low over the next few days so we would advise that pupils should be wrapped up warm, even if they get transport or only cover a short distance to school.
The current situation:
Secondary Schools
All secondary schools will be open to all pupils except Liberton High which is open to S4-S6 only and Balerno where 4th year is on study leave.
NOTE –  We are expecting Queensferry High to open but please continue to check for further updates.
Primary Schools
All primary schools will open except:
Murrayburn Primary
Prestonfield Primary
Ratho Primary
The following primary schools will be open but please note the following:Dean Park Primary – annexe closed, no nursery class
Gracemount – no breakfast club
Roseburn Primary – no nursery class
St Catherine's – no nursery class
St Cuthbert's – no language class
St John Vianney – no nursery class, no breakfast club
St Mark's –  no nursery Class
Nursery Schools and Child & Family Centres
All will open except Kirkliston Nursery.
Special Schools
The following schools are fully open to pupils:
Gorgie Mills
Wellington
Panmure St Ann's
The following schools are only open to pupils whose parents feel they can safely drop them off and collect them at the usual time. Pupils cannot be transported as usual due to bus access issues.
Braidburn
Kaimes
Pilrig Park
Prospect Bank
Redhall
Rowanfield
St Crispin's
Woodlands
Oaklands will remain closed to all pupils
Community Centres
The following community centres will be closed tomorrow:
Bingham
Jack Kane
Inch
Adult Education
All day adult education classes will go ahead as planned.  All evening classes across schools and community centres have been cancelled until next week because of plunging evening temperatures.  Keep an eye on programme details on the adult education website.
School lets
All school lets have been cancelled until next week.
Staff

All staff should continue to report to work. If staff cannot report to their usual place of work then they should go to the nearest City of Edinburgh Council school.  If staff are experiencing difficulties getting to work they should contact their Head Teacher."
Libraries Opening Times on Wednesday 8 December, Thursday 9 December and Friday 10 December will be 10am – 5pm.
Where staffing allows, this includes libraries that would normally open from 1pm.
Things could change depending on the weather. Our advice remains to phone ahead if you are thinking of visiting a library to make sure it will be open when you get there.
Remember you can also renew books by logging on to your account or over the telephone.
Some news on STV at 11.25 about the Big Freeze and on their website.
Libraries
Kirkliston will not open today due to weather conditions.
The other public libraries in Edinburgh will close at 4pm today
The Libraries blog Tales of One City says:-"The situation may change – if we have to close some libraries even earlier we will update you here.
Our advice remains to phone ahead if you are thinking of visiting a library to make sure it will be open when you get there. Remember you can also renew books by logging on to your account or over the telephone."
All Mobiles Library services, Library Link and Housebound services are cancelled today 7th December and tomorrow 8th December. If any housebound reader is desperate for books – please call access services on 529 5683 and we'll see what we can do.