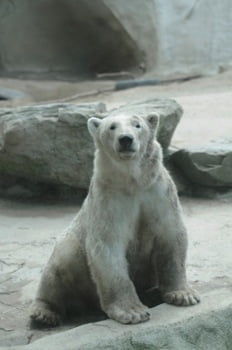 After weeks of preparation, Walker the polar bear has finally arrived at the Highland Wildlife Park near Kingussie and is ready to take the first few steps onto Highland soil.
Walker was transported by road and ferry from Rhenen Zoo to his new home yesterday, and will now be released into the holding pen where he and resident polar bear Mercedes will be able to see each other for the first time.
Douglas Richardson, Animal Collection Manager at the Highland Wildlife Park said,
'The transfer yesterday went very smoothly. Our colleagues at Rhenen Zoo managed to get Walker into his travelling crate without incident, which helped make the journey for him less stressful. His crate was lifted onto a lorry and he travelled by road and then by ferry to Hull and up the A9 which took around 24 hours. When he arrived here last night, he walked out of his crate and immediately began investigating his indoor den, so we are looking forward to seeing how he and Mercedes react to one another once he is released into the holding pen.'
Special modifications have been made to the park's polar bear enclosure so Walker and Mercedes can be managed separately and gradually introduced through a single layer mesh fence. Once Walker has become familiar with his surroundings in the holding pen, he will be released into the specially designed natural extension of the enclosure to continue the bears' introduction.
Photo courtesy of Rhenen Zoo