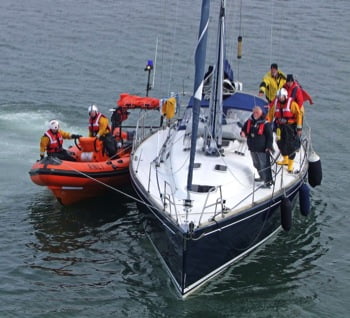 Solicitors will be on hand to give advice about writing a will in Scotland during the RNLI's initiative to promote the importance of legacies.
The RNLI is taking part in the Remember A Charity Week, running until 19 September, and on 17 September there will be a live online question and answer session on Twitter.
Roddy Harrison, of Brechin Tindall Oates and John MacArthur, of Gillespie MacAndrew, have volunteered their time. The public can put their questions to the two Scottish solicitors by tweeting to @RNLI, and then keep track of the discussion by following the #RNLIlegacy hashtag.
Michael Bruce, the volunteer RNLI coxswain at Anstruther, said: "Lifeboat crew members come from all walks of life, and each one of us owes a huge debt of gratitude for the gifts in wills which provide so much of the RNLI's income.''
Actor Timothy Spall, and his wife Shane, who recently visited the RNLI station at Loch Ness during filming for a new television documentary, have illustrated the value of legacy gifts to the RNLI.
Timothy said: "Shane and I have been deeply humbled by the men and women who crew the lifeboats around our coasts, who are prepared to risk their own lives to save the lives of others, at times in truly treacherous conditions – yet are volunteers.
"Also remarkable is the generosity of the public whose donations ensure the crews can do their lifesaving work. We've seen how gifts in wills underpin the lifesaving service, and the gratitude of RNLI volunteers for those donations. The generosity of people through their final wishes is truly inspiring as they leave behind a real legacy.''
Linda Aitken, the RNLI's Legacy Manager for Scotland, said: "Six out of 10 of our lifeboat launches are only possible thanks to gifts left in wills.
"After you have remembered your family and friends, a small share of what is left would make a huge difference to the vital work of saving life at sea.''
She added: "All legacy gifts, no matter how large or small, whether they provide boots or boats, help secure the future of the lifesaving service, to which we are all thankful.''
Further details about leaving a legacy to the RNLI are available at www.rnli.org.uk/legacy or through Linda Aitken on 01738 443255.