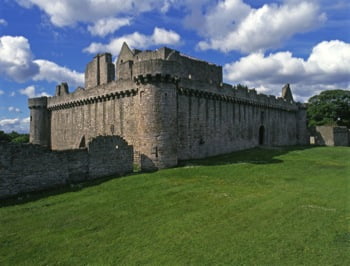 Craigmillar Castle, one of the most impressive medieval monuments in the Lothians, is hosting a fun Family Festival this Sunday, 15th August.
The event features a 'kids go free' offer designed to encourage families to come along and enjoy a great day out, with a variety of activities aimed at all ages.
Craigmillar's story is linked with that of Mary, Queen of Scots and the day's  entertainment includes presentations by costumed interpreters highlighting aspects of castle life during the lifetime of the iconic monarch.   There will also be medieval children's games – something different for today's PS3 and Wii fans to try their hand at – a craft stall and a drop-in art workshop.
The City of Edinburgh Council Countryside Ranger Service will also be running activities in Craigmillar Castle Park to celebrate the re-launch of the historic Yew Tree Walk from Inch House to Craigmillar Castle and promote other exciting developments taking place there.
The Family Festival takes place from 10.00am to 4.00pm, with entry for adults included in the normal admission to Craigmillar – £4.20 – with concessions at £3.40. There is no charge for Historic Scotland members.
Historic Scotland education officer Craig Fletcher said: "We hope as many families as possible will take advantage of the free entry for children and come along to enjoy a fun day with lots to see and do in the castle and the park.  It's a great opportunity too to explore this marvellous historic attraction and learn about its fascinating history."