11.15am
Sea lion training
11.30am
Flamingo talk
11.45am
Lemurs talk
12.15pm
Bongos talk
12:30pm
Gelada baboons talk
12.45pm
Carnivore talk (meet by the Pallas's cats)
2.15pm
Penguin Parade & talk
2.45pm
Indian rhinos talk
3.15pm
Chimpanzees talk
3.45pm
Capuchin & Squirrel Monkey Talk (at the Living Links building)
4.30pm
Steller's Sea Eagle Talk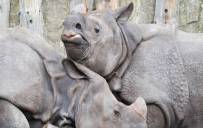 Other times to note:
Rainbow Landings is open from 10.00am – 12.00pm then 1.00pm – 4.00pm
Budongo Trail is open from 9.00am – 4.30pm (last entry 4.00pm)
Over the next few weeks there are many additional events. The Sky Trail® has now been opened which allows you to walk across ropes about 4 metres off the ground and swing from the trees like a monkey. Safety harness is obligatory…..
On Father's Day which is 20th June 2010 your father could lead the penguin parade but you have to enter him for the competition by applying through the Zoo website.