Holly Blackham from Edinburgh is taking part in Scotland's biggest ever football relay to raise vital funds for Street Soccer Scotland, a charity that helps people from a variety of socially disadvantaged backgrounds through football-themed training.
The 13-year-old will take part in the inaugural 'Big Dribble' along with 64 other participants as they look to dribble a specially designed Street Soccer Scotland tartan football 230 miles from Pittodrie Stadium in Aberdeen, down the east coast of Scotland and through the central belt, finishing at Scotland's National Stadium, Hampden Park.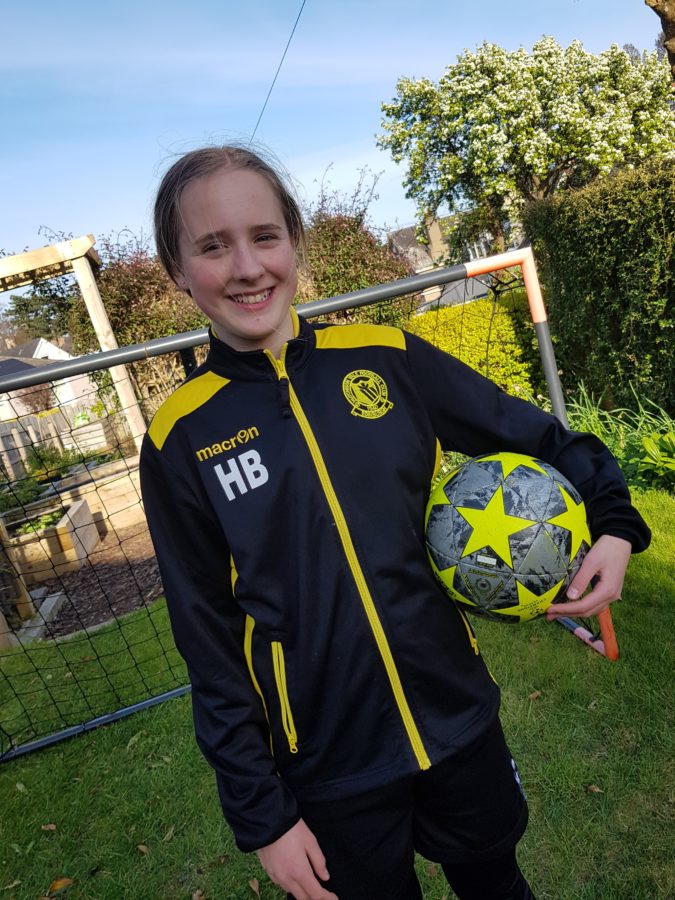 The challenge will start at 6am on 23rd April and will see participants walking day and night, with Holly taking part in the Edinburgh part of the relay passing Murrayfield, her old Primary school – Rosemount Primary, and the clubhouse of her current team Hutchison Vale. The challenge is expected to finish at approximately 11.30am on Sunday 25th April.
Holly said: "For me, football is about so much more than just kicking a ball. It's about playing as a team, having the right mentality and working hard to put in the effort. Street Soccer Scotland have a lot of the same values and see the affect football can have and I want to support them to do the great work they carry out in communities. Football plays a big role in my life. I have played for Hutchison Vale for the past few years and hope to one day be a professional player for Aberdeen FC. The Big Dribble was something I was keen to be a part of as it allows me to help others through my love of football."
David Duke, Founder and CEO of Street Soccer Scotland, hopes the new initiative can help to raise awareness of the charity's work and believes this is a great opportunity to unite the country through football during these difficult times.
"We're excited to launch our first participation event involving some amazing people from across Scotland," said Duke. "We've been looking at hosting a country-wide event for a while now, but with COVID putting those plans on hold, we're delighted that we've found a solution in The Big Dribble that unites people in a nationwide challenge while safely taking part in their own local areas.
"Dribbling the football from Aberdeen all the way to Glasgow through the day and night is no easy feat, so we're extremely thankful to Holly and the others for rising to the challenge. Their fundraising efforts are massively appreciated and we're extremely grateful to everyone who has continued to support Street Soccer Scotland throughout this challenging time."
Street Soccer Scotland has also launched 'The Wee Dribble' so families across the country can also take on their own challenge over the same weekend. The charity has 50 special tartan footballs to giveaway to families who sign up to the event, and anyone who raises over £100 will also receive an exclusive tartan t-shirt.
David added: "We're overwhelmed at how quickly our Big Dribble spaces filled up, so much so we've launched our Wee Dribble fundraiser to allow anyone and everyone across Scotland to still take part safely in their local areas.
"We had so many families looking to sign up to The Big Dribble, but as the challenge takes place during the night in some areas, it was a bit more difficult for them to take part. Now, the Wee Dribble allows children, parents and guardians to put their own spin on the challenge. Whether it's doing laps in their back garden or keep-ups at their local park, we're hoping as many families as possible will join in the fun to help support those less fortunate at this time when they need it the most."
The event will be part of this year's virtual Kiltwalk and allows people to take part in the nation's biggest ever football relay in a COVID friendly way. The total funds raised by Holly and those in The Big and Wee Dribbles will be topped up 50% by The Hunter Foundation.
Also taking part in the event will be a few well-known faces from Scottish football, along with representatives from global brands Baillie Gifford, John Lewis Partners, Waitrose and The Wood Group.
To donate to Holly's fundraising efforts, please visit:
Families looking to take part in 'The Wee Dribble' can sign up at www.thekiltwalk.co.ukand choosing Street Soccer Scotland as the nominated charity.
Founded in 2009 by David Duke MBE, Street Soccer Scotland is a social enterprise and charity which has helped over 10,000 people by using the power of football to create positive change by providing purpose, opportunity and connection for adults and young peopleexperiencing social exclusion. Street Soccer Scotland delivers programmes across the whole of the country, 365 days a year.
For more information or to donate to Street Soccer Scotland, please visit: