Hibs fans can watch tomorrow night's game against Forfar Athletic via a live stream which will be available on a pay-per-view basis priced at £12.50 and rules of the Betfred Cup competition mean the virtual receipts from this game are split between both clubs. 
This match will be played behind closed doors due to current government guidelines.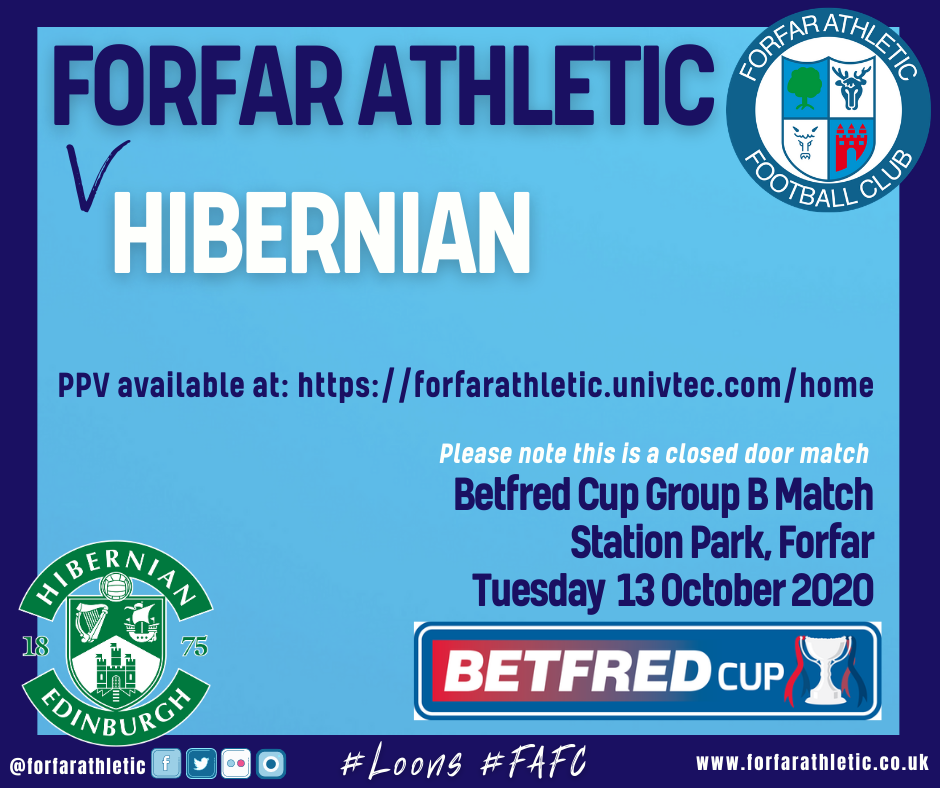 To register for the stream and make a payment please follow the simple steps below.
Register at: https://forfarathletic.univtec.com/outside/register
Once registered you will be asked if you have an Access code. There is NO Access code for this game – therefore please click 'Not Now' and you will be taken to the main match page.
Click on the Forfar Athletic v Hibernian match graphic.
Find the Tickets for Sale section (below the Access code information).
Click on 'Buy this event now' and follow the payment instructions.
You will receive an email from Stripe to confirm your payment has been made.
It is advisable that you register and pay for the match as early as possible to avoid issues prior to kick-off and to test your device and connection.
To watch please return to Forfar Athletic TV above and log in. You should then be able to watch the match once the stream goes live. We recommend you log-in early and stay logged in well ahead of the stream going live.
Fans should be able to live stream the match via an up to date laptop, Computer, smartphone or tablet. Please note that the stream is provided in HD but the quality of the footage will be dependent on the bandwidth and speed of your internet connection. You can adjust the resolution in settings (available once live in the bottom right-hand corner).
Fans can only watch via one device at a time. If you are already logged in on one device and try to log in to another a message will pop up to ask you to delete the earlier device and this will allow you to log in with the current device.
Technical support for login or password issues will be available in advance of the live stream but again the club recommend you are set up and ready to go well in advance to avoid any delays in watching the action.
The live stream is provided via an automated camera system and while our test events have gone well, we would remind viewers that this is not multi-camera full-scale match production. It will differ in feel from the televised football broadcasts we are used to and may well feel more like being at the game. For example, if you pop away to get a cup of tea and miss some of the action there are no action replays! However, you can pause and 'rewind' the action and will be able to re-watch the match later.