ENJOY THE MIRRIE DANCERS ABOVE BELMONT'S ROOFTOPS
Just one Autumn attraction at this unique self-catering House that's simply too good to miss!
Visitors to Shetland in Autumn and Winter will most definitely hope to see the "Northern Lights", known locally as The Mirrie Dancers, a stunning curtain of green, yellow, blue, and red lights swaying and shifting in the night sky!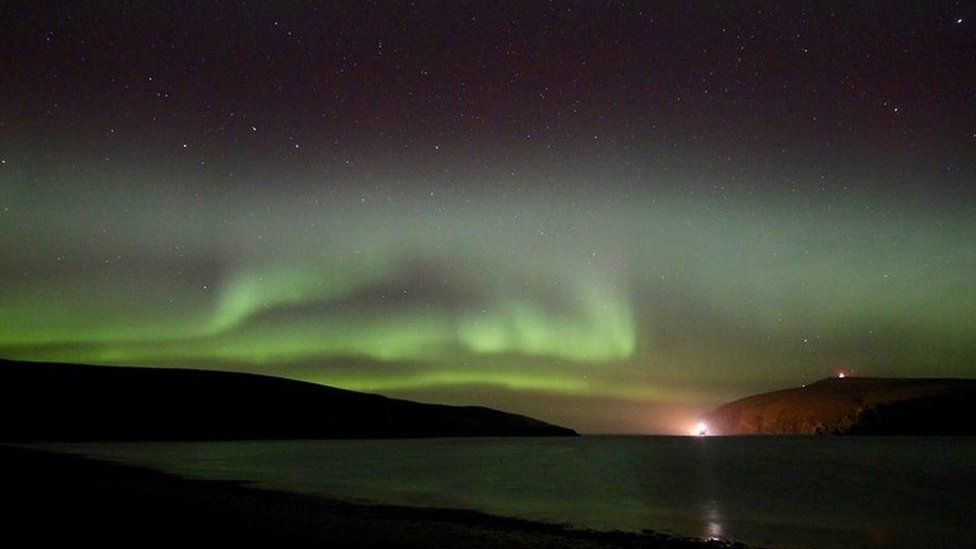 The further north you go, the more impressive is the spectacle,  so why not go as far north as you can go in the Shetland Islands, and in the UK generally, by going up to Unst , the most northerly place in the country, and home to Belmont House. This self catering retreat for groups is a loving brought back to life Georgian Mansion House, which is a VisitScotland 4 star property. The weekly low season rate is £1300 with ten people sharing.
A paradise for bird and nature lovers, Unst is also known for its impressive Viking Heritage sites.
Basing yourself at Belmont House means up to twelve people can stay together in comfort and privacy, able to enjoy the House with its five bedrooms and three bathrooms. Its many character features are seamlessly blended with modern amenities on a par with a top Hotel.
The layout of the House, with a number of stunning public rooms, and a cosy, sociable  kitchen, gives the flexibility that groups are often looking for, whether its social space together to plan out the various tours and plans of action, or a bit of privacy at the end of a long day out and about exploring the island.
Staying here means certainly means you are ideally placed for taking advantage of Unst's many charms.
Seals can often be seen in Autumn around the many sea caves that dot the coastlines around Unst.  Rare birds that have been sent at this time of the year by enthusiasts include the Pied Wheatear, and the Siberian Thrush.
Autumn is still an excellent time for spotting Minke whales, and there is always the chance of harbour porpoise and of course Orcas!  If it's otters you are after, rest assured that Unst is one of their favourite places in the British Isles, and they can be seen all year round, and, crucially, during daylight hours.

Expert local wildlife guides can be hired to take groups on a special trip around the island, an event which is sure to be a highlight. The island, at just forty six miles square is very accessible. Land tours can cover the two Nature Reserves housed on the island, or get out on the water for a marine safari to see those seals, porpoises and dolphins up close and personal.
Belmont House would be a wonderful find wherever it was found in the UK, but the fact it is on Unst is even more surprising.  A "kit house" Mansion House, it was shipped in its entirety from Edinburgh to be re-assembled on Unst by its proud owner, a local landowner who clearly wanted to have the very best house on the island.
A registered charity run by a Board of Trustees, many of whom are either islanders, or have a family connection to the island, Belmont House now offers a very special and unique place to stay. The house has been painstakingly restored, winning numerous awards along the way. Operating as a business, they wish to ensure its long term future.
For further details on staying at Belmont House, Unst please call 01957 711870 www.belmontunst.co.uk email bookings@belmontunst.co.uk