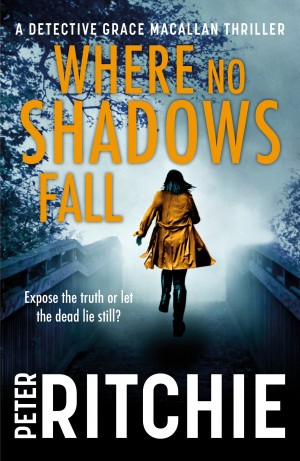 Local author Peter Ritchie's latest book in the 'Grace Macallan' series is out today.
In 'Where No shadows Fall', Grace Macallan's life is on an even keel at last, but a 9-to-5 career away from the frontline isn't all it's cracked up to be.
So when she's sent to investigate a suicide at Glasgow's notorious Barlinnie prison, Grace gladly escapes her desk.
 The dead inmate is Tommy McMartin, heir to a ferocious criminal family. His murder conviction saw Tommy's fall from power; cast out not for violence but because the victim was his gay lover.
The investigation drags Grace into contact with her McMartin adversaries of old. But the gangland dynasty is under threat and, as it topples, secrets once dead and buried are unearthed.
As she unravels Tommy McMartin's fate, Grace senses someone watching her from the shadows, someone who aches for revenge. An awful dilemma faces her: to expose the truth or let the dead lie still.
Peter's books are becoming more and more popular amongst crime fiction fans as he draws on his wide experience as an investigator to draw an authentic picture of how criminals, their victims and the detectives who try to catch them think, act and feel.
Peter began his working life at 15 as a deep sea fisherman before joining the police service and moving through the ranks of CID/Murder Squad/Regional Crime Squad in Scotland.
He then went on to manage the Organised Crime Unit in the National Criminal Intelligence Service in London where he ran a multi-agency team drawn from various branches of the law enforcement and the security services. This was a unique concept at the time and Peter travelled to many parts of the world in this role.
He was subsequently appointed as the UK Liaison Officer to Europol in The Hague where he spent five years.
He returned to Lothian & Borders heading the Major Crime Team before taking on an advisory role for a project in Croatia.
Following his retiral he worked on a number of private investigations before spending the next few years as part of the public inquiry team looking into the murder of the LVF leader Billy Wright in the Maze Prison.
He also worked on a public inquiry into the death of eighteen patients in the Vale of Leven Hospital from a hospital acquired infection.
Peter told the Edinburgh Reporter: "Although Grace constantly struggles with the past she always wants the next case. She has taken a more peaceful role behind a desk, but she finds the routine difficult to cope with.
"When she's asked to review a suicide in Barlinnie Prison and what should be a straightforward piece of work, secrets from the past are uncovered and Grace comes face to face with an old adversary.
"She has to decide whether to expose the truth or let dead lie still.
"So Grace is still on the case and there is more to come.'