ANATOMY is an arts producer based at Summerhall. After five years of producing some very diverse work they will showcase the best later this week on 10 and 11 May 2018 at the Traverse Theatre.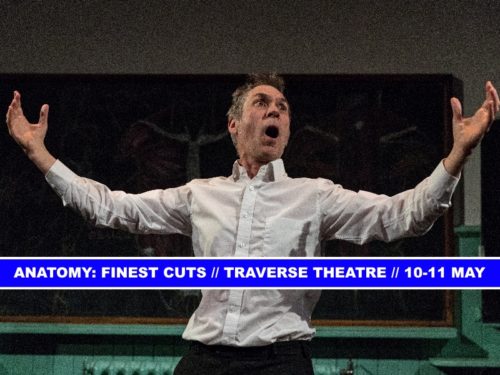 You are promised a 'full-throttle live art cabaret' with everything from tactical action to bleak buffoon, from opera to pop and ballet to biscuits.
There will be commentary from Ali Maloney and Harry Josephine Giles along with BSL interpretation throughout from Yvonne Waddell.
Usually their quarterly cabarets are a sell-out so act now and get a ticket!
This is an exciting year for ANATOMY who are looking to grow and consolidate their position in the Scottish Arts scene.
ANATOMY also present matinee performance art events for younger audiences and they champion disability accessibility in the arts, by integrating disability arts.
They produced the first performance of 'Sanitise by Melanie Jordan and Caitlin Skinner and Will Pickvance's Anatomy of a Piano both of which won Fringe First Awards.
The full line-up includes
The Cloud of Unknowing (Palimpset)
It's Not Over Yet (Cultured Mongrel Dance Theatre)
Sanitise (Jordan & Skinner)
Without Whom We Would Not Be Here Tonight (Rosa Postlethwaite)
Uranus (Moreno Solinas)
The Undercog (Lewis Sherlock)
Until the Cows Come Home (Xelís de Toro)
SEX – SEX – SEX (Sara Zaltash)
Date & Time
Thu 10 – Fri 11 May, 8pm

Tickets
Full price £17
Standard concession £14
Under 30s / Student £12.50
Other concession £9

See our Box Office page for full pricing and booking information.

Integrated British Sign Language interpretation
Thu 10 – Fri 11 May, 8pm