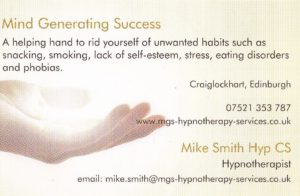 Weight loss. Smoking cessation. Insomnia. Anxiety. Self-esteem. Panic attacks. Tinnitus. Phobias such as fear of spiders, fear of flying. All unwanted habits. But all these issues have been successfully dealt with through the life-changing benefits of hypnotherapy.
The Edinburgh Reporter's Mike Smith runs Mind Generating Success, a successful hypnotherapy practice in Craiglockhart.
Hypnotherapy can help replace your unwanted habits with healthier ones. And the great thing is, you are in charge! You are fully awake, completely in control. All you have to do is sit back and listen to Mike putting suggestions to your subconscious mind. Hypnotherapy is a relaxing, calm process which can bring about the necessary behavioural changes to help you achieve your goals.
Here's what some people are saying about Mind Generating Success.
'I went to work with a spring in my step this morning. I've had sleep problems for many years but after a couple of sessions of hypnotherapy, I've slept three full nights in a row for the first time in three years. I can highly recommend Mind Generating Success – it's changed my life'
Client A, Midlothian – Insomnia
'After just one session there was a noticeable difference to my anxiety issues. I feel so much more at ease now – even the dread of making a phone call has gone. I'm amazed'
Client S, Kirkcaldy – Anxiety
'Officially 1 stone and a quarter pound off. Have not cheated on bread and potatoes once! Thanks for your help.'
Client T, Edinburgh – Weight loss
''The point of the day when I just eat for the sake of eating has disappeared off my radar. I really feel the benefits of hypnotherapy and it has got me in the right frame of mind'
Client W, Leith – Snacking
"I've lost two stones in just four months. Hypnotherapy has changed the way I think about food. I no longer eat when I'm not hungry. When I have supper at home I quite often don't finish what's on my plate. My wife wonders what she's done wrong, but she's done nothing wrong. It's just I've reached the point I don't need to eat just for the sake of it. It's the same when we're out for a meal. The waiter will come over and ask if everything is okay. I say 'of course it is. It's just that I'm no longer hungry. And, no, I don't want to see the dessert menu!'
'Hypnotherapy has changed my outlook on food. I no longer am inclined to eat chocolate just because it's there.'
'I must say Mind Generating Success has been brilliant and so supportive. If you're like me and are serious about losing weight – and nothing else has worked – try hypnotherapy. It really does work'
Client RC, Edinburgh – Weight loss.
'Hypnotherapy is braw! I used to snack all day at work and when I got home after work I would choose the lazy option and phone for a pizza or a fish supper. I don't any more, not because I'm forcing myself not to – it's just I no longer want to. My food habits have changed and even when less than helpful colleagues at work bring in bacon rolls for everyone I find I don't want one – despite the aroma of bacon filling the room.'
'I'm consciously not weighing myself, but I know I have lost weight because my clothes are too big for me. More importantly, the way I think about eating has changed and it's changed for good. Hypnotherapy has definitely changed my life for the better.'
Client RN, Midlothian – Weight Loss
'I had an eating disorder for thirty years. I had seen psychologists and specialists, and nothing worked. Until I saw Mike at Mind Generating Success. Hypnotherapy has worked after just four sessions. My disorder no longer affects my life in the way it did before. My friends are astounded by the change in me. I can't thank Mike enough.'
Client TF, Edinburgh – Eating Disorder
'I've smoked for twenty years and it's been a habit I couldn't break. I have tried nicotine gum, patches, the lot. Nothing worked. I went to see Mike at Mind Generating Success more in desperation than expectation. After one session of hypnotherapy my urge to smoke disappeared. And, of course, there are the obvious health benefits of no longer smoking.
Client KA, Edinburgh – Smoking
The cost of a session of hypnotherapy at Mind Generating Success is just £60. The number of sessions depends on how well it works but many clients have stopped their unwanted habits after just a few sessions. Smoking cessation is usually a one-off session costing just £95. If you smoke 20 cigarettes a day you're spending nearly £4,000 every year!
There's a special offer for readers of The Edinburgh Reporter – 10% off every session! Just quote ER2018 when making an enquiry.
If you interested in losing weight, stopping smoking, reducing anxiety or have a phobia such as a fear of spiders, mice, insects, dogs or cats – or you have a fear of flying – contact Mike Smith today for an initial consultation. Tel: 07521 353 787; email: mike.smith@mgs-hypnotherapy-services.co.uk
Website: www.mgs-hypnotherapy-services.co.uk