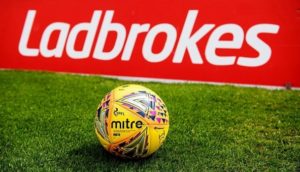 After several days wait, the SPFL today finally announced the post-split fixtures in the Ladbrokes Premiership.
There has been much hoo-ha in the media about the SPFL wanting to avoid a scenario where Celtic acquire the one more win needed to retain the Premiership title against their rivals Rangers. It's been reported that the SPFL have been in lengthy discussions with Police Scotland and the television broadcasters.
It was, therefore, inevitable that the first set of fixtures, scheduled for 21st/22nd April, would not involve a Celtic v Rangers game. However, the powers-that-be have decided that Celtic will travel to Easter Road on that weekend while Hearts have a third league visit of the season to Ibrox to face Rangers.
Neil Lennon's side will certainly fancy their chances against Celtic, particularly at Easter Road. Should the Hibees and Rangers both win then the scenario the SPFL officials so desperately want to avoid will take place the following weekend when Celtic and Rangers meet at Celtic Park.
Leaving all that nonsense aside – and it's a sad reflection of society in this country in the 21st century – the post-split fixtures have done no favours for Hearts supporters. Yes, Craig Levein's men finished in 6th place so were always going to have just two games at Tynecastle. But none of Hearts remaining fixtures are on a Saturday. Three are on a Sunday, while the highly anticipated Edinburgh derby will see Hibernian visit Tynecastle on Wednesday May 9th. Hearts and Hibs are both keen to attract families to games, but this will be the second Ladbrokes Premiership Edinburgh derby to be played on a Wednesday evening this season – with the other two played on a Tuesday and Friday evening. Hardly ideal for schoolchildren.
Hearts are also faced with a Friday evening trip to Aberdeen – hardly likely to encourage a large travelling support.
I know many fans who will be inconvenienced by these set of fixtures. As an example, my grandson accompanies me to Tynecastle as we're both season ticket holders. However, he plays for a youth team every Sunday and with the Edinburgh derby being shunted to another midweek date – a school night – young Jack will be unable to go to Tynecastle again this season. Hardly likely to encourage him to return next season.
Hearts have issued a statement tonight explaining why they have three away fixtures and stating while they are disappointed they understand it is a consequence of the inherently imbalanced system that the SPFL clubs have elected to operate.
Showing yet more disregard for supporters – often described as the lifeblood of the game – 'inherently imbalanced' is perhaps an apt description for the SPFL…
Scottish Premiership post-split fixtures in full:
Saturday 21 April
Hibernian v Celtic
Kilmarnock v Aberdeen
Dundee v St Johnstone
Partick Thistle v Hamilton Accies
Ross County v Motherwell
Sunday 22 April
Rangers v Hearts
Friday 27 April
Aberdeen v Hearts
Saturday 28 April
Hibernian v Kilmarnock
Hamilton Accies v Ross County
Motherwell v Dundee
St Johnstone v Partick Thistle
Sunday 29 April
Celtic v Rangers
Friday 4 May
Partick Thistle v Ross County
Saturday 5 May
Aberdeen v Hibernian
Rangers v Kilmarnock
Dundee v Hamilton Accies
Motherwell v St Johnstone
Sunday 6 May
Hearts v Celtic
Tuesday 8 May
Aberdeen v Rangers
Hamilton Accies v St Johnstone
Partick Thistle v Motherwell
Ross County v Dundee
Wednesday 9 May
Celtic v Kilmarnock
Hearts v Hibernian
Saturday 12 May
Dundee v Partick Thistle
Motherwell v Hamilton Accies
St Johnstone v Ross County
Sunday 13 May
Celtic v Aberdeen
Hibernian v Rangers
Kilmarnock v Hearts