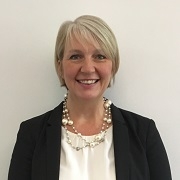 Gillian Imery QPM has been appointed as the next HM Chief Inspector of Constabulary for Scotland.
Mrs Imery, who is currently Assistant Inspector of Constabulary, will succeed Derek Penman QPM, who is retiring at the end of the month.
As Chief Inspector of Constabulary, Mrs Imery will lead HM Inspectorate of Constabulary in Scotland (HMICS) to deliver an annual programme of independent inspection, monitoring and evaluation of Police Scotland and the Scottish Police Authority. She will also be a source of professional independent advice on police matters.
Mrs Imery said: "I am extremely proud to have been appointed to the role of HM Chief Inspector of Constabulary in Scotland, and am optimistic about the part HMICS can play in supporting improvement in policing for the benefit of the Scottish public. I believe it is important to have independent and objective scrutiny of policing to ensure challenging issues are addressed as well as to highlight the positive contribution policing makes to our communities."
She Lothian & Borders Police in 1986, and served in a variety of uniform and detective officer posts in both city and county divisions, and in departments such as Complaints and Professional Standards, and Executive Support.
In 2004, she was promoted to Detective Superintendent and took up post as National Drugs Co-ordinator with the Scottish Crime and Drug Enforcement Agency.
In 2007, she became Head of Complaints and Conduct for Lothian & Borders Police. She was promoted to Chief Superintendent in 2008, taking on the role of Head of Safer Communities Division, responsible for the move towards a more prevention based, problem-solving approach to all areas of policing.
In 2010, she became the first female commander of the city of Edinburgh, then the largest division in the UK outside of London. She moved to Detective Chief Superintendent and Head of CID for Lothian & Borders Police before the transition to Police Scotland in 2013.
She served the new national force as Detective Chief Superintendent for local crime across the country and all public protection areas of business.
In February 2014, Chief Superintendent Imery took on the role of divisional commander for J division, in charge of over 900 officers, and covering the areas of West, Mid and East Lothian, and the Scottish Borders, approximately 2400 square miles.
In April 2016, she was appointed as Assistant Inspector of Constabulary at HM Inspectorate for Constabulary in Scotland (HMICS).
She was awarded the Queens Police Medal (QPM) in the 2017 Queens Birthday Honours.
Related