New Collaborative Work on Show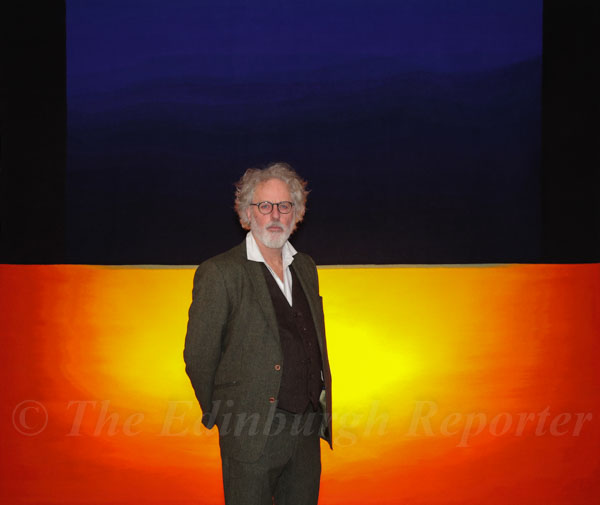 The Garry Fabian Miller 'Voyage' exhibition showcases a new tapestry created in collaboration with Dovecot Tapestry Studio, placing it within Fabian Miller's current body of work as well as tracing back long term influences through key early pieces from the artist's career.
Dovecot have worked with the artist Garry Fabian Miller since 2015 when he co-curated an exhibition, 'Dwelling', which highlighted the unexpected association between his working practice and the craft of tapestry and rug-making. This new exhibition extends this exciting collaboration as the Dovecot Tapestry Studio weavers unveil a tapestry, 'Voyage into the Deepest, Darkest Blue'; a response to a new picture made by the artist. Not a direct copy, instead the wool blends have been developed to make a new image based on an amalgamation of two photographs.
Garry Fabian Miller is an artist who has consistently pushed the boundaries of photographic picture making. He stopped using a camera in 1984, preferring to use light as both source and subject, from which point his images have grown increasingly abstract. His chosen photographic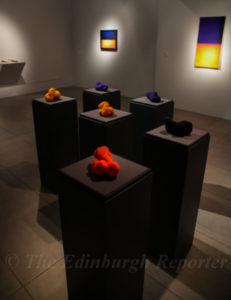 paper, Cibachrome, along with the associated darkroom chemistry, ceased production in 2011 but this demise has acted as a spur for the artist to explore his interests in light and colour more collaboratively, working with others to continue seeking new ways of working.
The new tapestry's subject, a sea voyage towards the horizon, has been a recurring theme in Fabian Miller's career since 1975, when he used a camera to record changing light on the sea over the Severn Estuary. Four vintage prints, from the series titled Sections of England – The Sea Horizons, 1976, made by the artist when he was 19 years old are included within the exhibition. The exhibition also features a rarely seen image from the collection of the Victoria and Albert Museum, by pioneering photographer Gustave Le Gray (1820 – 1884). Le Gray's mastery of the ability to capture light and his pioneering techniques developed during the earliest days of photography have long had an influence on Fabian Miller's own work in the medium.
Garry Fabian Miller's photographic practice, acquired through years of manipulating his own chosen material, light, in a darkroom, has by its nature, resulted in his keen interest in light, colour and the craft of making. The exhibition will include examples of Fabian Miller's recent digital prints as well as seeking to convey how, through the skilled and careful choice of different coloured wool blends, many specially formulated for this tapestry, the weavers have been able to retain the intensity of the artist's vision. Using the natural and tactile medium of wool to emulate the colour and intensity of the artist's new digital printing.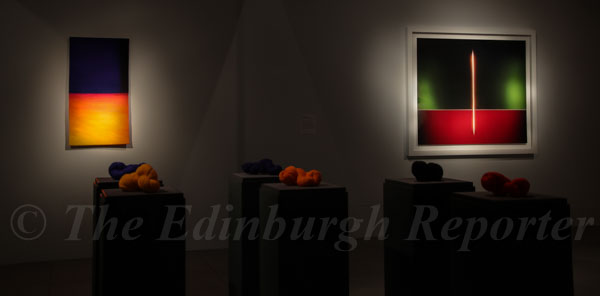 Garry Fabian Miller's 'Voyage' is open from 2nd February to 7th May 2018 at the Dovecot Studios