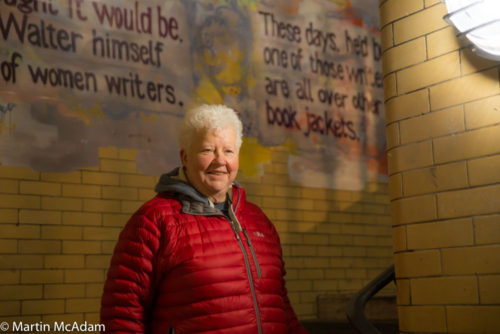 This new outdoor interactive project for winter is designed to encourage residents and visitors to explore Edinburgh's iconic locations and perhaps see them in a new light. You can either binge watch all of the locations in one evening or you can see the various projections at different times each evening in January.
Streets and buildings which have inspired some of the world's finest authors over the centuries – from Sir Arthur Conan Doyle and Robert Louis Stevenson to J K Rowling and Muriel Spark, and the streets and buildings which McDermid and her other collaborators have been inspired by all feature.
JK Rowling has only temporarily given her name to a pub where a story involving her is projected on the exterior wall. The idea is that you find each location for yourself so we are trying hard not to tell you all of them, but if you are easily spooked then it might be an idea to take a friend with you….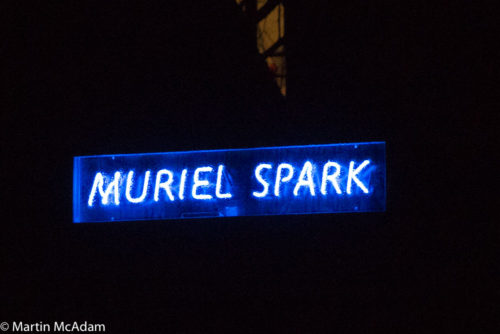 Message from the Skies is inspired by the nineteenth century tradition of publishing novels chapter by chapter: readers must go from location to location to read the whole story, simultaneously exploring both this piece of new work and the city.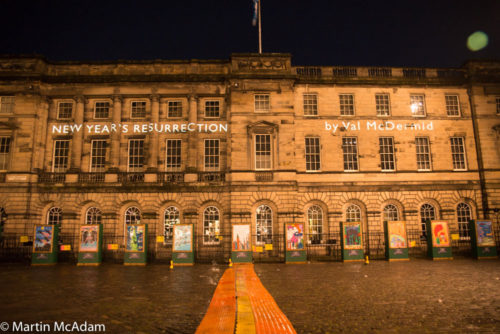 The projections will run until 25 January in a new celebration of Edinburgh's and Scotland's rich literary heritage on the final day of Edinburgh's Hogmanay and will continue to animate Edinburgh's dark nights by encouraging residents and visitors to explore projections onto many of the city's landmarks, following chapter by chapter a brand new story written by Val McDermid called New Year's Resurrection, commissioned by Edinburgh's Hogmanay and Edinburgh International Book Festival.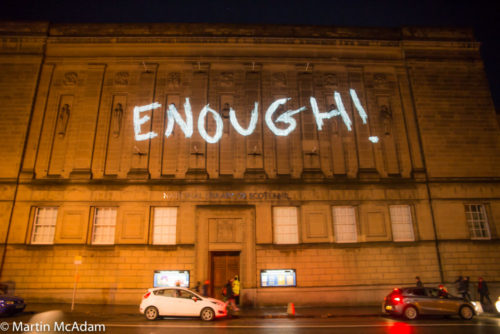 Message from the Skies is a collaborative project with involvement and support from Edinburgh's Hogmanay, Creative Scotland, Edinburgh Airport, Edinburgh Tourism Action Group, Underbelly, Pearlfisher, The Scottish Government, UNESCO City of Literature Trust and Edinburgh International Book Festival.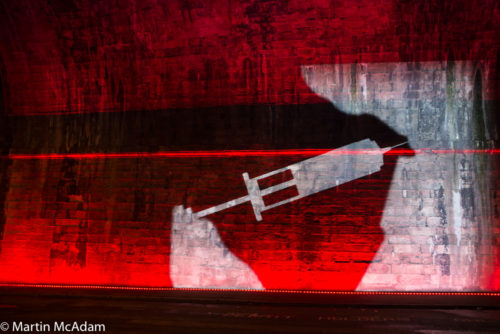 Double Take Projections have set up the installations across the city, some of which have sound to accompany them.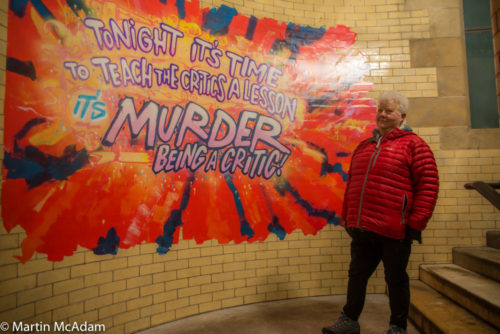 INFORMATION
The starting point is The Signet Library, Parliament Square, Edinburgh EH1 1RF
This is a free event, no ticket is required.
The projections will run daily until 25 January, from dusk around 5pm until 10pm.
As this is an outdoor walking event in winter, please dress comfortably and for the weather.
Download the Message from the Skies App at the App (iOS) Store and Google Play (Android).  Requires the following operating systems: iOS 10+, Android: 4.1+.
Full Terms & Conditions for the Message from the Skies App can be found here.