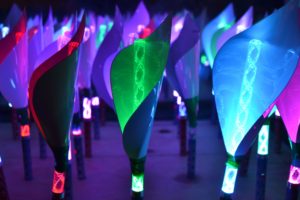 Members of the public are being invited to place an illuminated lily in memory of a loved one as part of an exploration of death and bereavement.
The project will see 1500 individual notes of remembrance displayed at an art installation in the form of a temporary memorial garden in Edinburgh's Grassmarket.
The tribute is being created in response to recent NHS Education Scotland-funded research into the training of health and care staff in issues relating to death and dying.
The garden is taking shape as part of the To Absent Friends festival, running from November 1-7. Organised by Good Life, Good Death, Good Grief, part of the Scottish Partnership in Palliative Care, the festival gives people across the country the chance to celebrate and to reminisce about those we have lost.
Academic staff from Edinburgh Napier University were involved with the research and worked with community groups to create the installation at the King Stables Road end of the Grassmarket.
From 4.30-7.30pm on Wednesday November 1, members of the public will be able to pick up a lily at any of the pedestrian entrances to the Grassmarket. They will then be invited to walk to the memorial garden and install their flower.
Dr Diane Willis, of the University's School of Health and Social Care, said that by putting research in the public eye, they hoped to stimulate more open discussions about death, dying and bereavement.
She said: "Bereavement and grief are a hidden public health issue. Very few people convey what they want at their funeral as death is rarely openly discussed."
Dr Willis added: "Our research identified a need for more training around bereavement issues in health and social care staff. There was a huge appetite to learn and develop skills to ensure the dying person and those around them received the best possible care and support."
The installation will be on display from 4.30pm to 7.30pm each night until Friday November 3.
Edinburgh City Council, Gorgie Garvald, the Grassmarket Project, Augustine Church and The Thursday Group supported the University team.
Dr Kirstie Jamieson, of Edinburgh Napier's School of Arts and Creative Industries, said: "Involving the community in the development of the project was important and signifies an inclusivity in how and where we all remember."
Euan Winton, also of SACI, said: "The lily garden installation represents a new paradigm with the medium of light, and the symbolic placing of an illuminated lily connects people to a community which remembers."