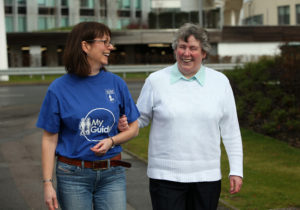 Guide Dogs Scotland is holding a free training session in Edinburgh to help locals support loved ones with a visual impairment.
The event takes place at the Eye Pavilion on 3 November.
The charity's My Guide service equips people with the skills to become a sighted guide, helping those with sight loss to get out of their homes.
My Guide Ambassador Mick Seed said, "This is a fun and informative session with practical activities, aimed at those who have a friend or a family member with sight loss.
"By the end of the training, attendees will have an increased awareness of visual impairments and knowledge about sighted guiding techniques.
"We would encourage people who know someone with sight loss to attend with them and learn how they can help them get out and about safely and with confidence."
The My Guide Friends and Family Training event is being held at Princess Alexandra Eye Pavilion, third floor (E3), Chalmers Street, on Friday 3 November from 2pm to 5pm.
To book a space please phone the Vision Support Centre on 0131 536 3332 or email emma.mcelwee@rnib.org.uk.
PIC BY STEWART TURKINGTON
www.stphotos.co.uk