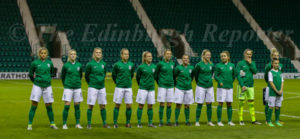 Hibernian Ladies start their UEFA Women's Champions League group stage matches against  Swansea City tomorrow before facing Kharkiv on Friday and Olimpia Cluj next Monday. All the games will take place in Romania.
Left-back Kirsty Smith believes that the teams Champions League experience gained last year against Bayern Munich will prove beneficial.
The players will be aiming to replicate those performances that saw them top the SWPL after an impressive first half of the season, as well as beating Celtic in the SWPL Cup Final at Broadwood in May.
She told Hibernian Media: "The Champions League starting is something that everyone in the team has been looking forward to coming round.
"For a lot of us it was our first time playing in it last year. Just playing in the competition is such a good experience.
"We're really looking forward to doing it again and hopefully do as well as we can.
"Bayern Munich are a world class team, so we gained a lot of experience from coming up against them in the two matches we played.
"I guess it has given us something to build on, we knew that it was going to be tough and I think this coming campaign is going to be tough as well."
"We know what to expect in the competition so far with our three opponents so far, but we haven't played against them before so it will be up to us to adapt to those challenges.
"We know that the Romanian team are quite experienced in the Champions League, they've been involved in the competition a lot throughout the years, so they'll be quite a tough side to come up against.
"I think the Ukrainian team will be a physically demanding game as coming up against teams from that area they all tend to be quite physical, and Swansea are maybe similar to us given the league that they are from, so I'm sure they'll be up for giving a good account of themselves."
Photo by John Preece