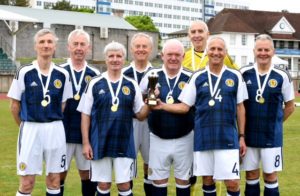 For the second time in history a Scottish football squad has returned from the World Cup Finals undefeated, but failing to secure the Winners' Cup.
This time, however, their efforts were better rewarded and they brought home silverware in the form of the Runners Up (or should it be "Walkers UP"?) trophy.
The core of the squad, which travelled to Swansea to take part in the Over 65 Walking Football World Cup finals, was made up of five Ayr United Football Academy players, supplemented by two Heart of Midlothian stars and one Anglo from Birmingham.
The management team of Gary McLaughlin and David Watson prepared the way with a training camp get together on the Monday before they set off and were delighted to appoint Hearts' Jimmy Bremner (pictured below along with Davie Barr) as Captain for the campaign, after he showed his leadership skills throughout the training day sessions.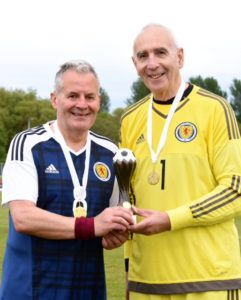 Gary said: "We saw that Jimmy has the character, skill and determination to lead the squad and I was delighted to award him the Captain's armband .
The other members of the squad were: Davie Barr (Hearts), Frank Hughes (Birmingham), Billy Thomson, Chris Johnston, Raymond Pattison, Harry Harvie and Tom Dowman (all AUFA).
The team boarded the Executive Coach early on Thursday morning and after a long trek to Swansea, interrupted by a stop at the Bill Shankly Memorial at Glenbuck to inspire the players, arrived in good spirits at the luxury hotel and training camp.
On match day the team were dealt a difficult hand in the draw with an opening match against the strong favourites, England, and found themselves a goal down within five minutes of kick off, but they rallied and equalised soon after. A master class substitution by the management team lead to Chris Johnston scoring within two minutes of arriving on the field of play and Scotland became stronger as the game went on. Disappointingly though they couldn't take advantage of their superiority and the game finished 1-1.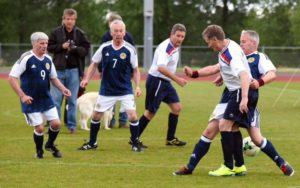 A great start nevertheless and the confident Scots thrashed Canada 3-0 in game 2, with goals from Tom Dowman, Chris Johnston and Raymond Pattison  to lead the league on goal average after the first 2 rounds.
From then on in it was head to head with England, with both teams winning their third and fourth games. Harry Harvie and Tom Dowman provided the goals which secured the points for Scotland and the rock solid defending of Jimmy Bremner, Frank Hughes and Billy Thomson, aided by the safe hands and agility of goalkeeper Davie Barr, ensured two more shutouts.
The fifth and final game, therefore, was critical and with England's goal average proving to be better than Scotland's it meant that Scotland really had to win convincingly to have any chance of picking up the Cup. The players gave it their all but felt the increasing pressure as the game progressed, lost their shape slightly, snatched at chances and ultimately failed to grab the goals that were needed. The resultant draw left them one point behind England, who won their last game.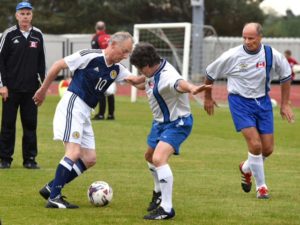 So, another glorious but fruitless campaign and another Captain Bremner brings his gallant team home, having given their all, only to miss out by the narrowest of margins.
Manager Gary McLaughlin summed up: "I am so proud of each and every one of the players. We won three games, drew two, one of which against the competition winners and conceded only one goal in the entire tournament. I couldn't have asked for any more. I would especially like to thank the two Hearts players and Frank Hughes from Birmingham for joining the squad. They formed the spine of the defence, but also settled into the squad as if they had been with us for years. There has been a great team spirit throughout the competition and we return home with a trophy and a huge desire to go one better next time round.
"We send our thanks to Ayr United Football Academy and the Scottish Football Association for their magnificent assistance and support throughout."
Sessions currently taking place in the Edinburgh area include:
Edinburgh City at Meadowbank every Thursday 12.30 to 2.00pm
Hearts at World of Football every Tuesday from 12.00 to 1.00pm
Heriot Watt at Riccarton Campus every Wednesday from 12.30 to 1.30pm
Heriot Watt at Riccarton Campus every Friday from 2.30 to 3.30pm
Hibs at the club's Training Centre at East Mains every Tuesday from 3.30 to 5.00pm
Midlothian at Bayne Memorial Hall, Loanhead, every Wednesday – 14.00 to 16.00
Midlothian at Ladywood Leisure Centre, Penicuik every Friday – 10.00 to 12.00
Contact numbers for all the Edinburgh and Lothian sessions can be found on the website here and anyone interested should make contact in advance to confirm sessions are on.
Photos courtesy of Gary McLaughin