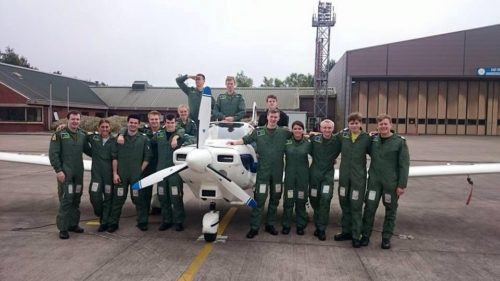 With the help of £15,000 funding from the RAF Charitable Trust the East of Scotland University Air Squadron (UAS) will take a team of 14 to British Columbia on an expedition.
The idea is to test their skills in resilience, awareness and strength, so the squadron will mountaineer to Lake Tuaton, before taking to a canoe for eight days on the Stikine River.
The annual award has been established in honour of Paul Bowen the co-founder of the Royal International Air Tattoo who died in 2004. The funding is set up to provide enriching opportunities for UAS with expeditions such as this.
The expedition leader, Sgt Lee Powles, said: "The entire team are extremely excited about this expedition in one of the world's last true wildernesses.  Although we do have opportunities to travel overseas to undertake expedition training, we would never be able to access such a remote location without the support we have received from the Trust".
"There are real-time risks involved throughout this expedition, which emphasises the importance of effective decision making, risk management and self-reliance.  As a result of the extreme isolation the expedition party will be operating in, this experience and the learning opportunity it provides are immeasurable and underpin everything this challenge is about."
Air Marshal Sir Kevin Leeson, Chairman of the RAF Charitable Trust, said: "Paul was known for his imaginative, stylish and enterprising spirit, which the Trustees wanted to reflect through this award by encouraging the same spirit in the UAS by challenging them to think bigger and better when planning their adventurous expeditions."