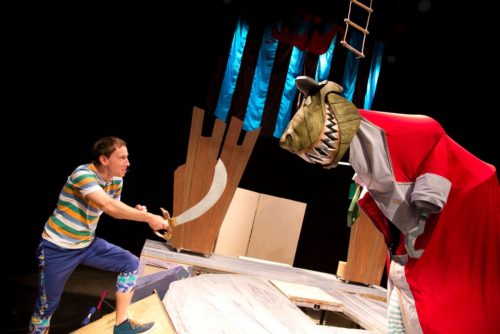 After a successful run at the 2012 Fringe, children's favourite Captain Flinn is back in Edinburgh with the new Captain Flinn and the Pirate Dinosaurs 2: The Magic Cutlass. The creation of Purple Ronnie and Edward Monkton creator Giles Andrae and Russell Ayto, Captain Flinn and the Magic Dinosaurs are brought to life by Les Petits, the children's theatre company from the team behind internationally-acclaimed theatre company, Les Enfants Terribles. Company co-founder James Seager  talked with The Edinburgh Reporter ahead of the Fringe run.
TER:     You're bringing Captain Flinn and the Pirate Dinosaurs 2: The Magic Cutlass to the Fringe after running the original Captain Flinn and the Pirate Dinosaurs previously in Edinburgh. How did Les Petis begin its relationship with the Captain Flinn stories?
JS:        Well, Captain Flinn and the Pirate Dinosaurs was the first show that the company had done. Les Petits is an offshoot of Les Enfants Terrible – which I guess we call the parent company. Oliver Lansley and I run Les Enfants Terrible, and have done for fifteen years now. A couple of years ago, we thought it would be great to do a kids' show, and the first reason for doing that was, I'd just become a parent and so I was seeing a lots of kids' shows. There was a lot of good stuff out there, but also, there was a lot of stuff we thought, 'We could do what we do for Les Enfants, but do it for a younger generation.'
So that's why Les Petits was formed. Then we looked at various books we wanted to do, adaptations. And that was the second reason, really – we wanted to do something a little more commercial, a little more based on existing properties. Because all of the Les Enfants stuff is new writing, and we wanted the opportunity to adapt some stories.
Then someone suggested, 'Do you want to do this book?' And I'd read it to my little girl, and we thought, 'Yeah, that sounds like a great idea!' I mean, who doesn't want to see pirates and dinosaurs? We did worry, maybe that's more focused for girls than boys, but doing that show – and we've been doing it for three-and-a-half years now – both girls and boys really enjoy it. So when we were getting ready to do the next show we thought, 'Why not do something different, but carry on with Flinn?'
TER:      Your first Captain Flinn production toured in Dubai and Abu Dhabi. How was the experience of touring the show internationally?
JS:        It was great! We launched the show in Edinburgh in 2012, and then it toured for the next three years. The show had a lot of sets, and that was the first issue, internationally – how do you get it over there? But we partnered up with a theatre over there, and they rebuilt the whole set for us. We had to get the puppets over, and there's a huge Tyrannosaurus rex! Although, in those days, it was quite a bit smaller than it is now, so it was a lot easier to put it in the hold!
But it was great, taking Captain Flinn to different countries and seeing how it worked in different cultures. And different languages as well. We were seeing some people for whom English wasn't their first language, and they were enjoying it just as much! It's very visual when you've got lots of dinosaurs onstage, and it was great seeing it work in a different environment.
TER:      Les Petits has become known for its striking design and use of puppetry. What does this allow you to do for a kids audience generally, and in Captain Flinn 2 in particular?
JS:        I think that in some ways it's harder having lots of stuff on stage – oddly enough, because kids will just accept it. With Les Enfants, we do a lot of puppet shows for adults, and sometimes for kids, they'll just believe it and therefore be a bit harsher. They'll see a dinosaur on stage and say, 'Yeah, that's a dinosaur.' Whereas adults will say, 'Yes, that's a dinosaur, and isn't it beautifully made!'
So, kids, if you don't convince them and they don't quite believe it, they can be hard. It's quite demanding, if you think about that. You really have to go with that sense of awe, but also that sense of, 'You're not pulling the wool over my eyes.' That's goes back to something we've always wanted to do with Les Petits – not patronise the audience in any way. Some kids' theatre, although it's quite good, can be quite patronising. That's something I saw quite a lot as a parent. You'd have the older audience – the parents – just switching off. Hopefully, at Les Petits shows, there's something for everyone. They are kids shows, but we don't want the adults to switch off. We want the adults to enjoy it just as much.
TER:      The show is for kids aged two and over. What range of kids are you getting at the shows? How do you find the humour the kids enjoy changes at the lower end of the spectrum?
JS:        We're getting all ages! And that was one of the appeals of the first Captain Flinn story. The book was aimed at two to six-year-olds, and that's who the show is aimed at, too. But there's always an eye on making sure everyone enjoys it. And you do that by not treating the material in a patronising way. You've got to tell the story, and ask, 'How do I tell this particular story without dumbing it down?' And then you see that kids of all ages appreciate it all, and perhaps particularly different bits. That's what we found with the first Captain Flinn story, and hopefully we'll find that with the new one, too.
TER:      How do you approach presenting a sequel to a children's book in a theatrical production? How do you balance call-backs for a returning audience and having a stand-alone story for a new audience?
JS:        Giles Andreae has written four of the books, and they do work as stand alones. So that's what we wanted to do with the show, too. You don't have to have seen the first one to enjoy the new show. That's something we were adamant about. In fact for a long time, we weren't putting the number "2" in there. But then we thought, 'We should put it in there,' because the first one had been up in Edinburgh, and we did want the people who had seen it to have the opportunity to see the new one as well, and see what Flinn's up to now. So there are a few little call backs – like Flinn duelling with his nemesis, the T. rex from the first show – but it does stand on its own, too.
TER:      How does doing the fact that certain of the kids in the audience will have read the books multiple times affect the nature of the show?
JS:        There is that anticipation for what's coming next, and that's a big thing for this kind of genre. There's a lot of children's theatre out there that's based on books, and that is something you do have to think about. One thing is, the design – trying to make the design as much like the books as possible. Because that's the child's reference point. And you also want to get that feel that Giles Andreae has in the books. Hopefully when you see our show, it's a fun, rollicking adventure on the high seas. That's what Giles was going for, and we try to catch that essence in the show. Of course, our show is an hour, and you'll read his book in five minutes, but it's catching that spirit and the design – and Max Humphries, who has done the puppet design, he's really caught that amazingly well. He's an excellent puppet-maker, and we're very lucky to have him on board.
Captain Flinn and the Pirate Dinosaurs 2: The Magic Cutlass, Pleasance Courtyard (Venue 33), Previews 3-5 Aug | 6-15 and 17-29 Aug | 10:30-11:30 £11/£9.50 (Concs)