The Hibs team signed off on their historic win against Rangers yesterday by bringing the Scottish Cup to the Lothian Chambers and then parading it all the way to Leith on an open-top bus.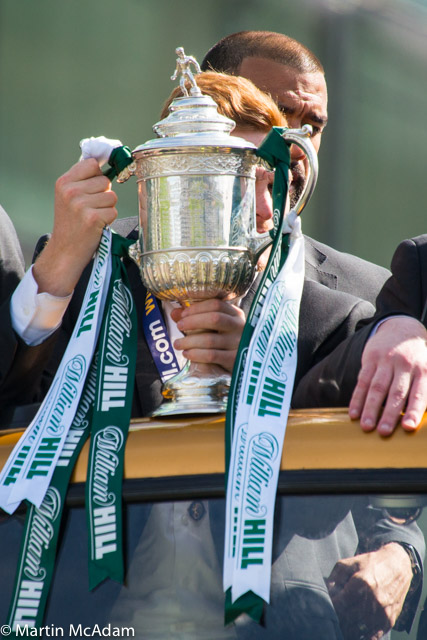 The match was a cliff-hanger and was won in the last few minutes by a late David Gray header. Gray was being lauded today by his team-mates who chanted his name when the Lord Provost mentioned him in his congratulatory speech. He said how delighted he was that the team won the match and the cup but said to Gray: "Please don't leave it till the 90th minute next time!"
Sir Tom Farmer who is the club's single biggest shareholder said that he remembered yesterday why he cannot attend football matches every Saturday. He said that the late winning goal almost caused him to have a heart attack! He said:" I was physically shaking with the emotion of it all.
"I love going out however and meeting people who love football and who tell me so when I am out on George Street or at church on Sunday."
Rod Petrie got involved with Hibs when Sir Tom asked him to do due diligence on the club at the time he thought of buying it. Petrie admitted that was when doing due diligence was an easier task than it is now.
Head coach Alan Stubbs said that people keep asking him how he feels. He said: "To see other people's smiles on their faces makes it all worthwhile. Thank you to all of those who have stuck with me through the good and the bad. I hope we have more good times than bad in the future."
The team paraded the cup on the top deck of the gold double decker bus from Parliament Square all the way down the High Street specially opened for the occasion, over North Bridge and down Leith Street onto Leith Walk and finally on to Constitution Street to Leith Links.
Crowds were delighted to see the team and the cup all the way along the route which was packed from end to end.