Kezia Dugdale is the Scottish Labour leader and a candidate in Edinburgh Eastern as well as on the regional list.
When The Edinburgh Reporter met her a couple of weeks ago she had only just moved into the office on London Road just along from Meadowbank. She was delighted to find that a local florist had dropped off a couple of bay trees for outside the front door, and made off to say thank you just as soon as she was finished the interview.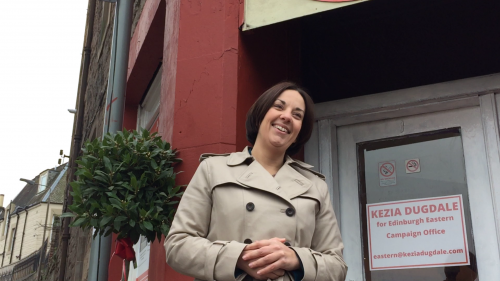 This then is Kezia Dugdale. She is the girl next door who has had a meteoric rise in the political sphere. The former MSP Malcolm Chisholm speaking to us at the beginning of the last parliament, said she was a 'rising star', and his words now ring true.
Whether she has chosen the right party to be a complete political star with real clout is yet to be determined on 5 May, but she is certainly passionate about everything she does.
The Edinburgh Reporter NEWS #SP16 Kezia Dugdale Edinburgh Eastern from Phyllis Stephen on Vimeo.
Her rise to prominence was meteoric, from being first elected in 2011 as an MSP, and now after a few changes along the way, she finds herself leading the party which opposes the mighty SNP who have a majority at Holyrood.
When asked how that happened she replied : "I am not entirely sure, but it is a huge honour and privilege to lead the Labour party when you think about the achievements over the last 100 years. Major social change has come about during that time because of the Labour party : welfare state, the NHS, the Scottish Parliament, the national minimum wage. These are great achievements in the past and I believe we will have some really great achievements in the future.
"I am standing in Edinburgh Eastern because this is where I live and I would love to serve this community. I've spent the last five years working with local community groups, I've been around the schools addressing all sorts of issues around Portobello and the great potential there is there. I want to do more of that work and I want to do it as the MSP for Edinburgh Eastern.
Reminded that the SNP have also had a meteoric rise since 2007, and faced with an uphill task as an individual and as a party, Dugdale is realistic: "I think that to say the polls are challenging is a bit of a euphemism! But then they have been that way for some time, but I am absolutely determined and focussed on turning that around, and I believe I have a plan to do that.
"For a start I lead an autonomous Scottish Labour Party. The decisions we make are made by me here in Edinburgh with the team around me, so we can put Scotland first. I am also talking about using the powers of our great parliament to tackle education and inequality, to raise taxes progressively, to invest in public services. That is a very different message from the other political parties."
Dugdale is looking to take this seat which has long been held by the SNP into the hands of Scottish Labour. It is now vacant following the retiral of Kenny Macaskill who was SNP MSP here since the beginning of the Scottish Parliament.
"I intend to win this seat but the decision about whether that happens lies in the hands of the voters here in Edinburgh Eastern, and in any case all Scottish Labour candidates are also all on the regional list in common with all the other political parties.
"Even though I am top of the Labour list I don't take anything for granted, and I would urge the First Minister to do the same. Some of the language she has used about 100% expecting to be back behind her desk in Bute House is a little bit arrogant.
Dugdale is still relatively new in her post as Scottish Labour leader, having been elected only in August 2015, but she had already been well accustomed to fencing with the First Minister at FMQs in Holyrood. As the Scottish Labour Leader Jim Murphy was an MP at the time without rights of audience in Holyrood the task fell to her to keep the government on their toes. So when she was elected to the position herself following Murphy's defeat in the General Election, it was not completely new. But it was not something she did without thinking.
"I took some time to think about whether I was going to put my name forward for the top job. I didn't want to be flattered into it, nor did I want to assume that I could do it without having a really serious think about what I would do with the job. Did I have the answers to turn around the party's fortunes? I believe I do. I have a clear plan to renew the Scottish Labour party, a much clearer sense of what we stand for, bringing forward new faces, renewing the Labour family itself, our relationship with the UK party, the relationship with the Trade Unions, what it means to be a Labour party member in 2016. We have made great strides on all of these."
But the election is being fought on local issues too. Dugdale explained that her whole political life has centred around education: "I am the daughter of two teachers who brought me up to know that education can transform lives if you have equal access to it. When I look around this constituency there are obvious differences between the life chances of children living in Niddrie and Craigmillar and those living in Portobello or beyond the constituency boundaries.
"Even the life expectancy between someone born in Niddrie and someone born in Balerno is 21 years. If we are serious about tackling that deep-rooted inequality and poverty then education has a big part to play in that answer. So I am advocating progressive taxes, a small increase based on the more that you earn the more that you pay to invest in education and close that gap between richest and poorest.
"On 6 May 2016 I would love to be behind the desk in Bute House. I am not in politics to oppose. I am in politics to govern.
But if Scottish Labour does not win the chance to govern Dugdale is clear that the Conservatives are not on the ascendancy. "The Conservatives set to strip £4 billion from the welfare system and support for people with disabilities, meaning a reduction of £3,500 for those depending on Personal Independence Payments.
"I know someone who is entirely dependent on those payments for dressing and going to the bathroom. This is what Ruth Davidson's Tories want to take away from him. I don't understand how anybody can think that is the type of opposition that we need in the Scottish Parliament."