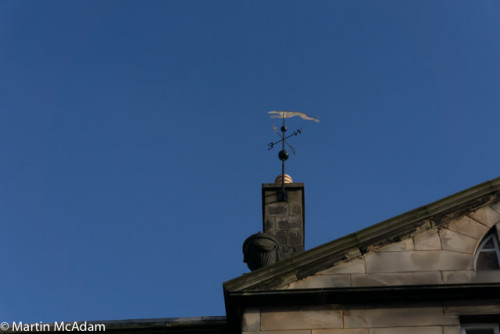 First Minister on Europe
Queen Street Tunnel closure
Travelling Gallery 
The Auld Hoose gets a makeover
Stand Up for St Columba's Hospice
Following a weekend when all the SNP MPs were joined by the First Minister Nicola Sturgeon in London to campaign against Trident, she is using her journey south of the border to talk about Europe.
Later today at  St John's Smith Square, the First Minister will argue that Scotland and the UK should seek to reform the European Union from the inside rather than be a voice outwith.
She is expected to say: "The Scottish Government believes that EU membership is in the best interests of Scotland. As such the Scottish Government will make a positive, constructive case for remaining in the EU. I believe that we benefit from being part of the EU, and the EU benefits from having us a part of it.
"For more than 40 years, membership of the European Union has been good for the prosperity and wellbeing of individuals, families and communities across the country.
"I want the vote on 23 June to result in an overwhelming victory, across all parts of the UK, for remaining in the European Union. I will campaign wholeheartedly to achieve that result. And although my main role will obviously be to campaign in Scotland, many of the points I'll be making are of course also relevant to the debate across the UK."
The First Minister is expected to add: "Having access to the European Single Market has removed barriers to trade and gives freedom to move capital, people, good and services – but the EU is not simply an economic union, it is so much more than that.
"Being part of the EU is also about solidarity, social protection and mutual support.
"This has become even more evident in the recent months, with independent members of the EU working collectively on pressing global challenges such as the movement of refugees and migrants, energy security and climate change. By working together within the EU, we can achieve far more and make a real difference to some of the world's most vulnerable people.
"It's clear that being a member of the EU has its benefits, but with any institution improvements can be made.
"If we are to influence positive change in Europe, we must remain within the EU – only that guarantees a role in the EU decision-making processes on issues that affect our everyday lives."
Sign up here for a daily email from The Edinburgh Reporter
The tunnel just before you arrive into Glasgow's Queen Street station will be closed from Sunday 20 March. A new timetable and new train routes will begin then to divert trains away from the tunnel.
Scotrail explain why the tunnel will be closed: "As part of our preparations to deliver faster, longer, greener trains for Scotland, Glasgow Queen Street High Level tunnel and station will close for essential upgrading for 20 weeks from Sunday 20th March. It will re-open on Monday 8th August.
The closure will allow Network Rail to replace 1,800m of concrete 'slab' track just before and inside the tunnel that leads into Glasgow Queen Street High Level station."
Some trains will be diverted to Glasgow Queen Street Low Level and others to Glasgow  Central.
There is an interactive moving map online which will help passengers check now how their journeys will be affected and printed timetables will be handed out to passengers.
Journey times will be longer as a result of diversions.
Jacqueline Taggart, ScotRail Alliance's customer experience director, said: "We're advising customers to download the timetables straight away, so they can plan how and when they will travel for the duration of the work.
"We're doing everything we can to alert customers to the change. From this week we've got staff at key stations giving out handy, pocket-sized leaflets with loads of information about key route changes."
For more information and timetables click here.
The Travelling Gallery will be on the road this week visiting Glasgow first before coming to the capital on 29 March 2016.
The exhibition on the bus called Here Comes Everybody will feature a collaborative project from artists kennardphillipps and Scott Lang. Photomontage, digital print, collage, stencils will all be used to explore the power of the image.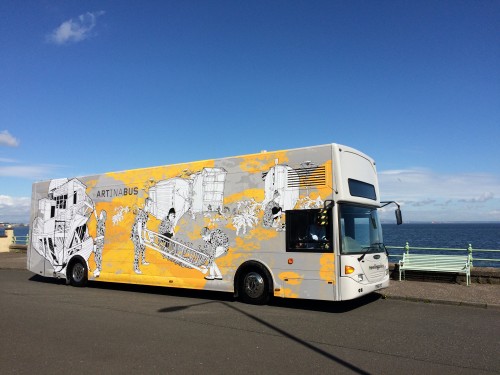 And you too can get involved as on the tour visitors will be asked to produce artwork using the same creative processes.
Councillor Richard Lewis, the city's Culture and Sport Convener, said: "Yet again the Travelling Gallery curators have devised a fascinating exhibition which I am sure will delight crowds across Scotland.
"As a Council we're committed to making art and culture as accessible as possible to a variety of people, and through supporting this mobile gallery, art is brought straight into the hearts of town centres. I hope everyone takes the opportunity to pay the spring exhibition a visit."
The Travelling Gallery is supported by The City of Edinburgh Council, Creative Scotland an the Esmée Fairbairn Foundation.
The Auld Hoose on St Leonard's Street has had a £136,000 makeover from owners Punch and mine host Jonathan Winks. Jonathan has been running the pub for the last ten years and has worked hard to make teaching staff and students especially welcome. Now that he has the support from Punch he is excited about the future.
The look is completely fresh but the well-established pub has retained its original feel.
The pub sells a range of cask ales, craft beers and cider with modern pub food, including lots of vegetarian and vegan options. Students get a 10% discount off food which cannot be a bad thing.
Publican Jonathan said: "The refurbishment has given the pub a much needed boost, without changing the overall feel of the place. I'm delighted with the way it looks now. By working together with Punch, alongside the expertise and training they've provided us, we've been able to give The Auld Hoose the attention it deserves.
"We're still very much a friendly and inviting pub, offering great food, music and entertainment together with a wide range of drinks, including cask ales and whisky. Our jukebox is legendary in Edinburgh for having the best selection of metal, punk and goth music and we're known for serving the city's largest nachos. The Hoose Gigantic Nachos weigh 6lbs and they alone are worth coming in to try, but make sure you bring your mates in to share!"
St Columba's Hospice is holding a comedy evening to raise much needed funds to look after its 1300 patients. With the likes of Fred Macaulay as host and Fascinating Aïda on the bill, it already looks like a roaring success.
Gary Little is a regular headline act across the UK and he will also be part of the evening.
Fred Macaulay said: "Stand Up for St Columba's Hospice is a fantastic evening and I am really looking forward to hosting this event. It will be great to perform for so many people who will all come out to support the Hospice and the incredible work they do. I am sure the other comedians and acts are just as excited as I am about standing up for St Columba's Hospice!"
Stand Up for St Columba's Hospice takes place at Prestonfield House, Edinburgh, on Friday 8 April and tickets are £95 each. The evening also includes a champagne reception, dinner, live music and a ceilidh. Book tickets online at www.stcolumbashospice.org.uk.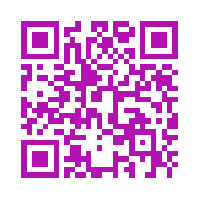 If you are reading this article in print and would like to visit The Edinburgh Reporter website then simply scan the QR code here with a smartphone or tablet.