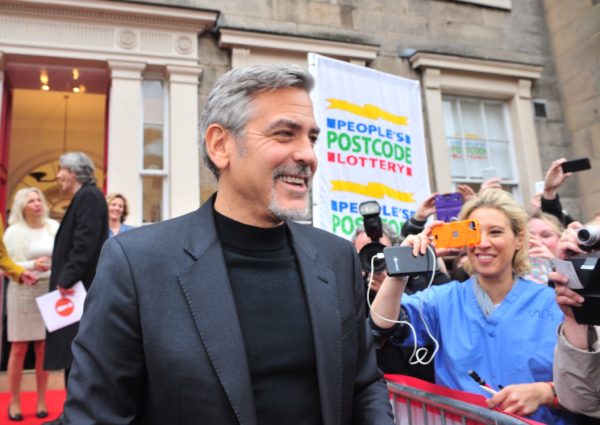 Hollywood star George Clooney has wowed crowds across the capital today with his charming manner and smile.
He brought his namesake street to a standstill today as crowds gathered outside People's Postcode Lottery offices to catch a glimpse of the star.
The ER and Ocean's Eleven actor was visiting the Edinburgh-based charity lottery to receive a cheque for £175,000 for his charity Not on Our Watch.
Players have awarded Not on Our Watch, a charity co-founded by George Clooney, £175,000 to help increase global attention to human rights violations across the world.
Clooney's charity, which was also founded by Brad Pitt and Matt Damon, was set up to generate lifesaving assistance and protection for the vulnerable, marginalised and displaced.
As a charity lottery, players of People's Postcode Lottery have raised over £91million for good causes across Great Britain and internationally. Along with sister lotteries in the Netherlands and Sweden, People's Postcode Lottery is part of the world's third largest private charitable donor.
Photo Rob McDougall