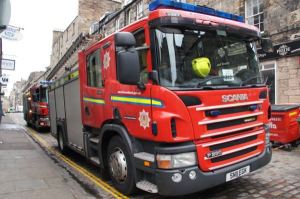 Police are appealing for witnesses following a suspicious fire at a construction site within the city.
The incident happened at around 10.40pm on Wednesday 7th October at the premises in Haddington Place where new student accommodation is being built.
Subsequent enquiries have established that the fire is believed to have been started deliberately resulting in significant destruction to the lower ground floor of the building.
It is estimated the cost of the damage will be in excess of £250,000.
Detectives are keen to trace three teenagers who were seen in the area around the time of this fire and anyone who can help identify them is asked to come forward.
The first youth is described as male, white, 14-17-years-old, 5ft 6ins tall with a heavier build and short brown hair. He was wearing a light-blue hooded top with a logo on the chest.
The second youth is described as male, white, 14-17-years-old, 5ft 6ins tall with a thin build. He was wearing a baggy light-grey hooded top with the hood up and matching grey jogging bottoms.
The third youth is described as female, white, 14-17-years-old, 5ft 5ins tall with a heavier build, pale complexion and purple/reddish hair tied in a ponytail. She was wearing a mid-length black jacket.
Detective Constable William Doughty said: "This construction site is the location for new student accommodation and the developers are understandably upset at the level of damage caused and the obvious delays this fire will have on their completion date.
"The three teenagers seen within the area are of great interest to this investigation and anyone who can assist us in identifying them should contact police immediately.
"I would also urge anyone with any further information relevant to this investigation to get in touch."
Those with information can contact Police Scotland on 101 or alternatively, the charity Crimestoppers on 0800 555 111.