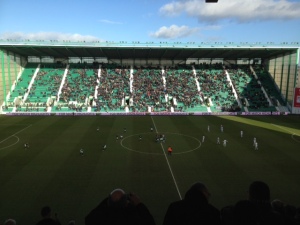 The fixtures for the 2015/16 Ladbrokes Championship season have been announced and Hibs start with an away trip to Dumbarton on Saturday 8 August,  followed by a home match against newly-promoted Morton (15 August) and then a huge game against Rangers at Ibrox on 22 August.
Speaking  to hibernianfc.co.uk, Stubbs said: "There is always a huge amount of excitement when the fixtures come out to discover how our schedule will look for the upcoming season.
"Our planning starts now and will ensure we're ready and thoroughly prepared for the first game at Dumbarton on 8 August, which will be a tough start.
"Everything we do is geared towards making sure we prepare correctly and that we hit the ground running once the season starts.
"There is a lot of optimism and excitement and now we need to build on that in order to experience an enjoyable and successful season."
Hibernian's 2015/16 Ladbrokes Championship fixtures (please note fixture dates and kick off times are subject to change)
| | | |
| --- | --- | --- |
| Sat   8 August | Dumbarton | Away |
| Sat   15 August | Morton | Home |
| Sat   22 August | Rangers | Away |
| Sat   29 August | Raith Rovers | Home |
| Sat   5 September | Falkirk | Away |
| Sat   12 September | Alloa Athletic | Home |
| Sat   19 September | Livingston | Away |
| Sat   26 September | St. Mirren | Home |
| Sat   3 October | Queen of the South | Away |
| Sat   17 October | Dumbarton | Home |
| Sat   24 October | Raith Rovers | Away |
| Sat   31 October | Rangers | Home |
| Sat   7 November | St. Mirren | Away |
| Sat   14 November | Livingston | Home |
| Sat   21 November | Alloa Athletic | Away |
| Sat   5 December | Morton | Away |
| Sat   12 December | Falkirk | Home |
| Sat   19 December | Queen of the South | Home |
| Sat   26 December | Rangers | Away |
| Sat   2 January | Raith Rovers | Home |
| Sat   16 January | Falkirk | Away |
| Sat   23 January | St. Mirren | Home |
| Sat   30 January | Morton | Home |
| Sat   13 February | Livingston | Away |
| Sat   20 February | Alloa Athletic | Home |
| Sat   27 February | Dumbarton | Away |
| Tue   1 March | Queen of the South | Away |
| Sat   5 March | Rangers | Home |
| Sat   12 March | Livingston | Home |
| Sat   19 March | Raith Rovers | Away |
| Sat   26 March | Dumbarton | Home |
| Sat   2 April | St. Mirren | Away |
| Sat   9 April | Alloa Athletic | Away |
| Sat   16 April | Falkirk | Home |
| Sat   23 April | Morton | Away |
| Sat   30 April | Queen of the South | Home |