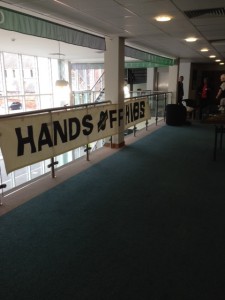 The 'feel good factor' returned to Easter Road yesterday with around four thousand people attending the annual open day.
The event was organised by the Hibernian Historical Trust as part of the Leith Festival, and the numbers exceeded all expectations.
Visitors, many of whom were wearing the new Hibs' strip,  started in the Gallery where club historian Tom Wright had prepared a number of exhibitions including a 25th anniversary of the famous 'Hands off Hibs' campaign including the Skol Cup which Hibs won in 1991. A display commemorating the 100th anniversary of the Gretna rail disaster with the names of the dead also attracted considerable attention.
From there, fans visited the boardroom where Gordon Smith's five League Championship medals were displayed and directors box where they were greeted by 'Big' Frank Dougan, one of the fans' representatives on the board.
Supporters then visited the dressing rooms and walked down the tunnel to the side of the pitch where defender Jordon Forster and mascot Sunshine the Leith Lynx happily posed for photographs.
Next stop was the Hibernian Community Foundation which is based in the south stand then a visit to the East Stand concourse where large programmes of famous games including Barcelona, Real Madrid and Naples. At the rear of the stand visitors were able to view the personalised marble plaques purchased by hundreds of Hibs' fans.
After that, the visitors went into the Famous Five Stand where generous supporters left old football strips which will be donated to charity. From the concourse, the fans went upstairs to the Almond suite where the Petrofac Cup was on display then finally down to the club shop.