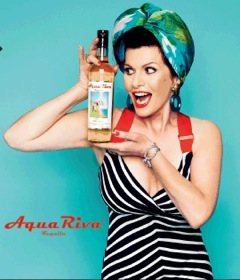 A new gallery showcasing famous street artists is opening inside a PUB – so you can buy a Banksy with your beer.
The Street bar in Edinburgh is set to sell original works by world-class artists, such as Keith Haring, Banksy, New York's Shepard Fairey and even pop art legend Roy Lichtenstein, through its Street Art Gallery on the premises.
The innovative project has even won backing from TV bombshell Cleo Rocos, who is sponsoring the gallery with her AquaRiva tequila brand.
The star – who was made famous on the Kenny Everett Show – said: "Art is for everyone. It ignites the impossible as everything is possible in art.  This is why I support the Street Art Gallery.
"Street Art is provocative and edgy and often created at great personal risk to the artist – like Zorro with paint cans. I love the happy danger and the strong and powerful messages in some of the very beautiful work."
The Street Art Gallery is the first of its kind in Scotland and is the brainchild of the bar's owner, Wendy Schofield. She said: "I've always had a strong interest in art and I believe street art is freshest art form because it is accessible to everyone and takes away the stuffiness of traditional works.
"I set up the gallery because I feel there is a huge gap in the market for this kind of work – especially in Scotland. I have collected some wonderful pieces that I believe more people should see.
"My plan is to regularly change the exhibits and to show a wide cross-section of world-wide street artists. The works will change every month and, hopefully, I will be able to include more local artists and maybe even produce my own work – anonymously, of course!"