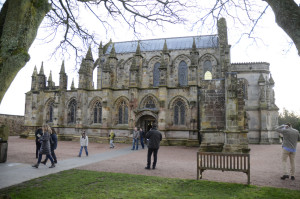 Portmanteau: Eight Voices, One Concert… Saturday 16 May 2015 7.30pm
The Friends of Saltersgate School are set to benefit from a fundraising concert at Rosslyn Chapel by singing group Portmanteau on Saturday 16 May.
The eight-strong Portmanteau was formed in 1990 by a group of friends who came together to sing for pleasure and to present occasional concerts in aid of good causes. Over the past 25 years, they have been delighting audiences across central Scotland with a special blend of accompanied and a Capella singing, in a repertoire stretching from Bach to the Beatles via folk songs, show songs, madrigals and barbershop.
The concert will raise funds for the Friends of Saltersgate School, a voluntary group and registered charity, which aims to promote the welfare and support the needs of children and young people who attend Saltersgate School, the Additional Support Needs School serving Midlothian. It also provides support to their families through the provision of respite break holidays.
Tickets are now on sale, priced £10 (for adults) £8 (for seniors and students with valid ID) and £7 (Rosslyn Chapel Pass Holders with pass) from http://www.rosslynchapel.com or by calling the Chapel on 0131 440 2159
Submitted by Ian Gardner