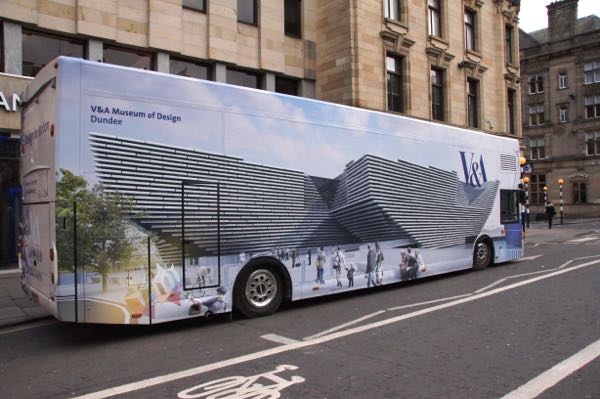 V&A DUNDEE DESIGN IN MOTION SETS OFF IN STYLE 
V&A Dundee's first national touring exhibition, Design in Motion, embarked on a 17-week journey across Scotland. The exhibition, a collaboration with the Travelling Gallery, is housed in a custom built gallery in a bus and today you can see it outside the People's Postcode Lottery head office on 76 George Street.
We went along with the staff of the PPL this morning when they got a preview of what the bus looks like inside. It houses some examples of what the V&A will have when it eventually opens.
Part of the new museum's pre-opening programme, Design in Motion is the second V&A Dundee project to benefit from funding from players of People's Postcode Lottery.
The exhibition includes leading fashion designer Holly Fulton, BAFTA award-winning game designer Sophia George and innovative product designer and artist Geoffrey Mann. All seven featured designers use digital technologies to push the boundaries of their discipline, enabling them to demonstrate how design can be put to work to reconstruct our heritage, visualise the unseen, and create products not previously possible.
The tour will visit more than 70 venues across Scotland. Including Edinburgh, locations will include cities such as Glasgow and Aberdeen, as well as rural locations including Lewis, Harris and Skye. Venues range from secondary schools and art colleges to museums, community centres and libraries. The final stop will be the Victoria and Albert Museum, London in June. It is anticipated that more than 10,000 people will visit the exhibition in total, with additional audiences taking part in events, activities and digital engagement.
Philip Long, Director of V&A Dundee said: "Through the tour we can showcase some of our most extraordinary contemporary designers and raise the profile of design and its benefits to society across Scotland. It helps demonstrate that design is a wonderful and very viable career choice for young people and there is a broad range of disciplines to consider.
"The exhibition is just a snapshot of the creative riches that V&A Dundee will showcase, allowing us to get out and talk to our audiences and build real excitement towards opening in 2018.
Design in Motion was developed in partnership with the Travelling Gallery and generously supported by players of People's Postcode Lottery, The Mathew Trust, Heritage Lottery Fund, Creative Scotland, The Scottish Government, and City of Edinburgh Council.