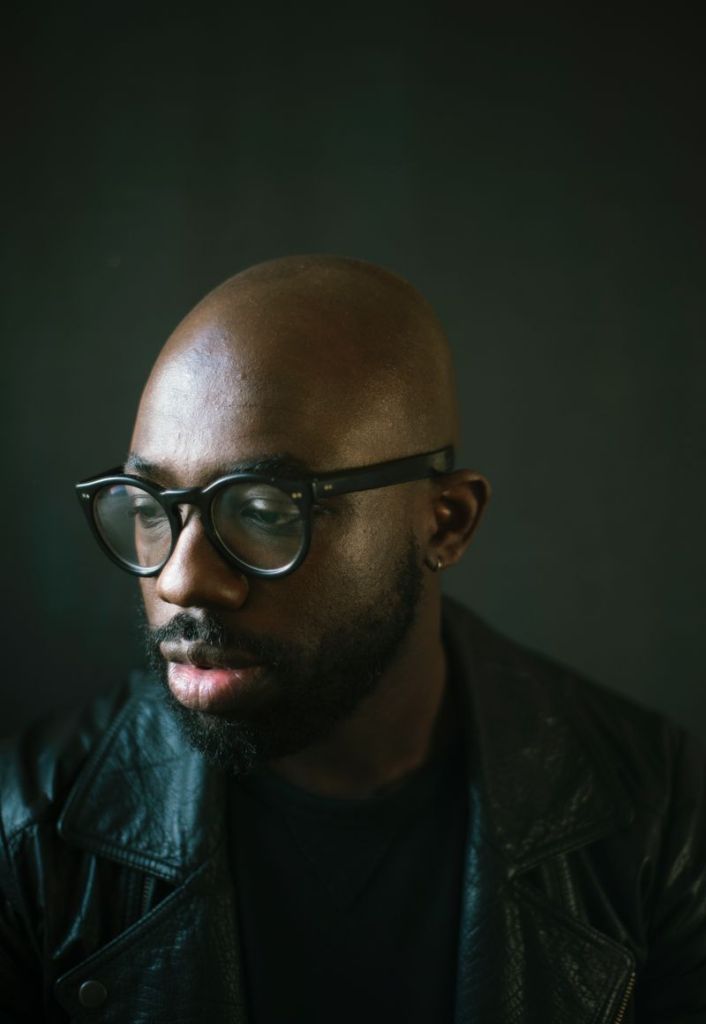 Three albums into his already promising music career, Ghostpoet (aka Obaro Ejimiwe) has already won a Mercury Prize nomination, only losing out to PJ Harvey's Let England Shake.
Ghostpoet's new record, Shedding Skin, will be released on 2 March, and according to Ejimiwe, the album will be based more around guitar as well as a full band.
The new album is a sonic departure from Ghostpoet's previous two albums, Peanut Butter Blues & Melancholy Jam and Same Say I So I Say Light, which feature predominately electronic elements. It's part of the musician's way of evolving and developing.
"I feel with me, I've got to keep pushing myself," said Ejimiwe. "I've loved guitar music forever, and I've had bits of guitar, bass and live drums on previous records. So we try that as a parameter working with those instruments along with a bit of electronic, to see what can be produced."
With Shedding Skin acting like a different style of record to anything Ghostpoet has ever done, having a band has generated different ideas and has opened doors for experimentation. His four-piece band includes Joe Newman on guitar, John Calvert on bass and John Blease on drums.
"I made the demos with one-string guitar lines, same with bass and programmed drums," he said. "Having more voices made sure the experimentation was carried out. It wasn't a dictatorship as I'm a solo artist and that was reflected. It was good to work with talented artists, articulating ideas, trying different ideas and we were able to do it very quickly."
Ghostpoet's lyricism has always been the main topic for discussion surrounding his music. There is a certain noticeable melancholy in the solo artist's words. His previous album featured lyrics where the musician was in a 'dark place'. Now Ejimiwe has reverted back to more accessible lyrics. "I made demos before I approached the touring band, John, the bass player, produced it," said Obaro. "In my mind making an album lyrically was going back to the first album where I talked about the life outside my front window, people I interact with, general conversations, the feeling in the air. Last album was inward, this album is much more happier. Makes sense to talk about things again."
Obaro Ejimiwe is renowned for recruiting guest vocalists in his songs and usually fits the right vocalist to the right song. For Shedding Skin, Ghostpoet has collaborated with the likes of Nadine Shah, Etta Bond, Melanie De Biasio, Lucy Rose and Maximo Park's vocalist Paul Smith. "When I write lyrics initially, I write with particular singers in mind and ask if they want to get involved. I didn't know if Paul Smith of Maximo Park would do it. He has a distinctive vocal. I'm just privileged he wanted to work with me. He really took the song [Be Right Back, Moving House] to another level."
The increasing guitar focus of the album was mainly influenced through the intensive listening to Nick Cave and the Bad Seeds, Interpol, The National and TV on the Radio, a band whom Ghostpoet was due to support on their UK tour before a cancellation prevented Obaro from supporting one of his idols.
"We prepared for the tour at the TV on the Radio gigs so now we're just kicking our heels until the April dates," said Ghostpoet. "I'm looking forward to playing live, along with the new album songs."
Ghostpoet plays Edinburgh's Electric Circus on 2 April. Tickets can be purchased here.