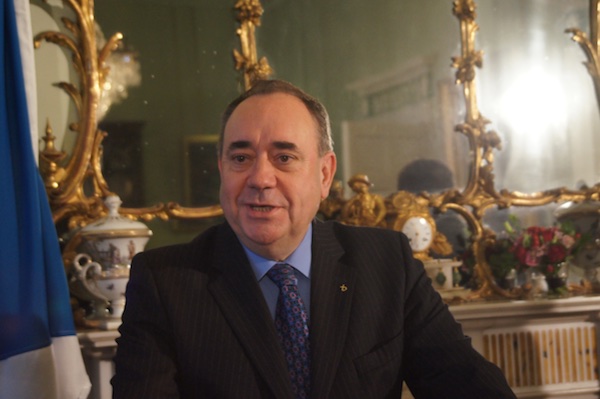 Gifts and memorabilia received by former First Minister Alex Salmond have raised more than £42,000 for charity in an auction this afternoon.
More than three hundred lots, donated by Mr Salmond, were auctioned by Anita Manning of Great Western Auctions in Glasgow in aid of St Jerome's orphanage, Clic Sargent, and the Scottish Youth Theatre.
Speaking after of the sale, Mr Salmond said:
"I am delighted that the sale of these items have raised an incredible £42,100 for children's charities and even more will be added to this total when further artworks are sold at the Fine Art Auction early next year.
"Over seven and half years as First Minister I was presented with many wonderful gifts – from novelty items, like soft toys or a Zulu spear, to high value items like artwork, Cartier cufflinks or rare stamps. These were gifts to me as Scotland's First Minister and so, on leaving office, I am delighted that their proceeds from this Christmas auction will now benefit three great Scottish charities.
"I was amazed that my saltire tie alone raised a staggering £1,600.
"Instead of packing these items away when we left Bute House, Moira and I were keen that other people be able to treasure them and raise money for charity in the process. There was something for everyone here today, for every pocket, and I hope those people who have bought one of these mementos will cherish and enjoy them as much we did.
"I want to thank Anita Manning and her team at Great Western Auctions in Glasgow for the incredible job they have done, at no cost, in cataloguing and auctioning these lots."
You can read what the lots were here on the auction house website.