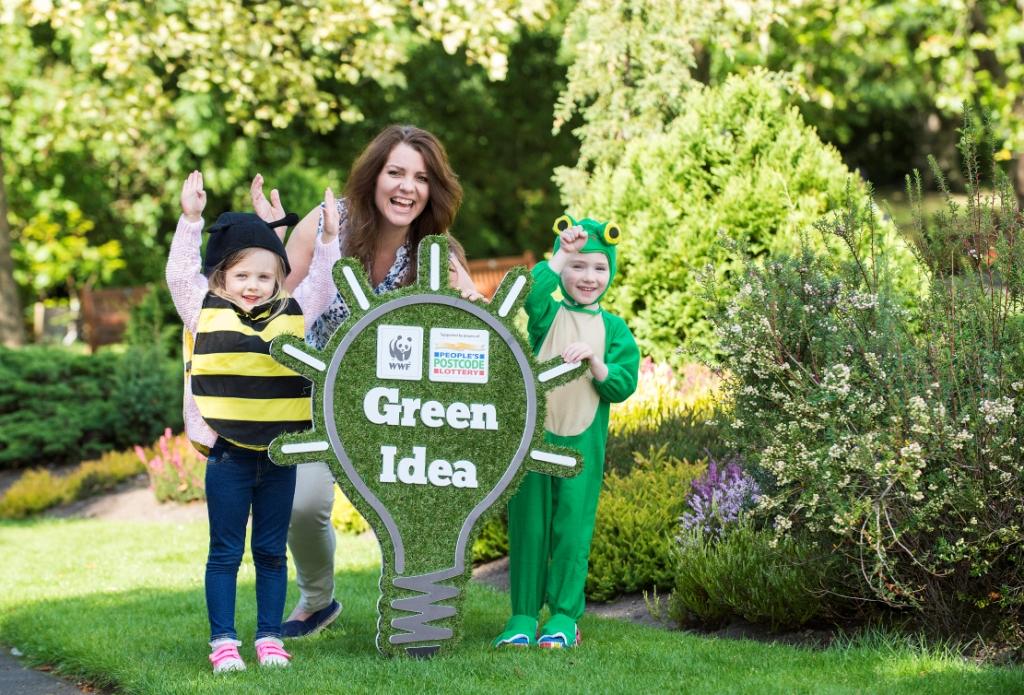 Former BBC Scotland meteorologist, known affectionately by fans as Heather 'the weather' Reid was joined by a buzzy bee and ribbiting frog to kick-off the search for Edinburgh's best green community idea.
Heather is urging community groups across Edinburgh to enter A Grand Green Idea, for their chance to win £1,000 of funding to help bring their green initiative to life.
A partnership between WWF Scotland and People's Postcode Lottery, A Grand Green Idea is challenging community groups, schools and social clubs to come up with an idea that will benefit their local environment.
This year's competition has two main categories under which groups can enter their ideas; Climate & Energy – which could include the final piece of funding for a community wind turbine to insulating the local Scout hut; and Wildlife & Nature – which could range from clearing pondweed from a local stream, planting wild flowers to helping bees with pollination or creating an insect habitat like a 'bee hotel'.
This year will see a finalist from each category receive £1,000 to bring their idea to life and an overall winner receiving an additional £1000 to really boost their Grand Green Idea in the community.
Commenting on the launch, Heather Reid said:
"I'm delighted to again be supporting such a worthwhile and exciting project. Over the past two years I've been impressed by some of the innovative ideas local communities have had to improve their environment. A Grand Green Idea is a great opportunity for people to get together and think about their local surroundings and how they can make it more environmentally friendly."
The competition, which is in its third year, has previously had hundreds of entries from community groups from all over the country and organisers are hoping that this year will be a record breaker.
Lang Banks, director of WWF Scotland, said:
"We're thrilled to be launching our third annual Grand Green Idea competition, and we're looking forward to seeing the great ideas local groups come up with to improve the environment.
"Once again, we would like to thank the generosity of the players of People's Postcode Lottery for their on-going support for this competition. From protecting wildlife to saving energy, our environment is very important, and by joining together at every level, including communities, we can all help to make a big difference."
The competition hopes to convey that small ideas can make a big difference within Scotland's communities. The winners of last year's competition, Fife based CLEAR (Community Led Environmental Action for Regeneration) wowed judges with their urban orchard project.
With the help of the £1,000 prize, the community group in Buckhaven transformed public cycle and walk ways into lined orchards which boast Scottish varieties of apple and plum trees, with native planted bluebells, crocus and other flowering bulbs.
Clara Govier, Head of Charities at People's Postcode Lottery, added:
"A Grand Green Idea is a fantastic initiative and I am delighted that People's Postcode Lottery are working alongside WWF on this project. I would like to encourage community groups across Scotland to get their thinking caps on and come up with an idea that will improve their local environment."
All community groups, schools, clubs and community councils with six members or more can enter the competition. Judging the ideas will be a panel from WWF Scotland and People's Postcode Lottery, who will be testing entries based on their ability to benefit the wider community, the long term benefit of the project and the ability to involve a wider audience.
To apply for their chance to win, entrants must state their idea in under 500 words before the closing deadline of 5 October 2014. For more information or to enter, visit http://www.wwfscotland.org.uk/grandgreenidea
Submitted by Katie Burnett