War Poets Collection Guided Tours: Edinburgh Napier University houses a small special collection of material relating to the fascinating history of its Craiglockhart campus, which began life in 1880 as a Hydropathic establishment and was requisitioned by the military in 1917 as a hospital for shell-shocked officers (Seigfried Sassoon and Wilfred Owen met here.) In the 1920s it became home to the Convent of the Sacred Heart and Craiglockhart College of Education. Catherine Walker will provide a guided visit and talk about the many interesting characters who have had links with Craiglockhart over the years.  11am-12 noon or 2-3pm, War Poets Collection Exhibition Area, Edinburgh Napier University Craiglockhart Campus, Glenlockhart Road. Free, but each tour is limited to 12 people, so please book by calling 0131 455 4260/4274 or emailing events@napier.ac.uk  The War Poets Collection Exhibition is open to the public for viewing during campus opening hours – all welcome! There is more information about theWar Poets Collection on its website.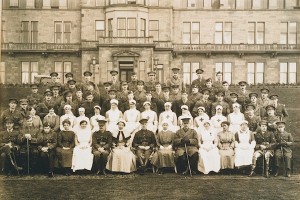 Lunchtime concert: Neil Mantle (horn), Gillian Gray (piano.) 1.10-1.50pm, St Mary's Cathedral, Palmerston Place. Free: retiring collection.
Titian as Draughtsman: Despite being a highly productive artist whose career spanned seven decades, Titian has left us remarkably few drawings. Chief Curator Aiden Weston-Lewis examines this problematic area of Titian's work. 12.45-1.30pm, Hawthornden Lecture Theatre, Scottish National Gallery, The Mound.  Free and unticketed.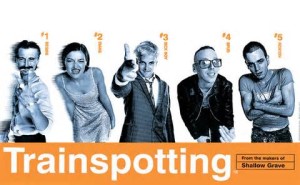 Trainspotting: special showing of this iconic film with an introduction by Dr Jonny Murray, Senior Lecturer in Film and Visual Culture at Edinburgh School of Art, who will explore the film's assertion that 'It's sh** to be Scottish.' Part of To See Oursels, a season designed to shine a spotlight on some of the key ways, past and present, in which Scotland has understood itself. 6pm, Filmhouse, Lothian Road. Tickets £8.20/£6 from the cinema or online. Please note this film has an 18 certificate.
Lunchtime Concert: Julian Layn (Switzerland), piano. 12.15pm, St Giles Cathedral, High Street. Free.
Edible Gardening Seasonal Advice: drop in to find out how to grow your own food, and take a look around the productive garden with the Edible Gardening Project team.  1-3 pm, Demonstration Garden, Royal Botanic Garden, Inverleith Row. Free, no booking required.
Introducing the Artist Rooms Research Partnership: Artist Rooms is an important public collection of international contemporary art.  Find out more about the research and events taking place within this partnership. 12 noon-1pm, Edinburgh College of Art, Main Building, Lauriston Place. Free but places are limited and must be booked via eventbrite. Part of ECA Masters Festival 2014.
Free Fringe Music at The National Museum of Scotland. Today: Pure Brass – brass quintet.. 2-2.40pm, National Museum of Scotland, Chambers Street.
eBook Surgery: get help with downloading free eBooks, audiobooks and emagazines. 2-3.30pm, Central Library, George IV Bridge. No appointment necessary.
A Bird is Not a Stone: Maya Abu Al-Hayyat, Christine de Luca and others read from A Bird is Not a Stone, an anthology of contemporary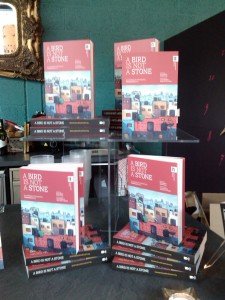 Palestinian poetry. 'A rare opportunity to discover the range and variety of extraordinary voices in contemporary Palestinian poetry translated by Scotland's most acclaimed poets.' A Bird is Not a Stone is a unique cultural exchange, giving both English and Arabic readers an insight into the political, social and emotional landscape of today's Palestine.  1pm, Word Power Books, 43-45 West Nicolson Street. All welcome! Admission free – donations also welcome! See The Edinburgh Reporter's review of the launch of A Bird is Not a Stone here.
Edinburgh Hacklab Open Night: Edinburgh Hacklab is a hackerspace: it has open nights every Tuesday and Thursday – drop in, bring along a project to tinker with, ask for some electronics help, hack some code or just have a chat and see what's happening. 7pm, Summerhall, 1 Summerhall Place. Free, no booking required. More details at edinburgh.hacklab.com