If you visited LUSH Spa in Princes Street this weekend, you might have been surprised to find yourself greeted by a dog.  No, he wasn't there to sample the soap or have a massage – though he probably wouldn't have minded a bit of either.  LUSH invites a different 'grass roots' charity into its shop every month to raise funds and this time it was the turn of Springer Rescue for Scotland.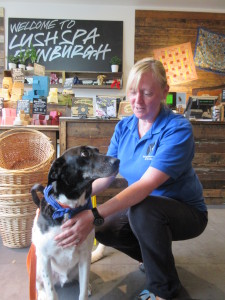 On Sunday Vivienne Benson, one of the charity's key volunteers, had brought along 6-year old Murphy, who appeared to be the most laid-back dog in the world. Murphy is Vivienne's own rescue dog and although he's not a purebred springer, she's sure he's got a bit of the breed in him somewhere. Murphy was there to support his brother Dougie, a purebred springer who had selflessly worked the Saturday stint. They didn't enjoy all that attention and adulation one little bit of course: they're just good actors….
Vivienne explained that the charity currently has about 25 dogs looking for homes.  Springer Rescue does not have its own kennels; if an animal needs to be rehomed in a hurry it is fostered with a volunteer until a permanent home can be found. As well as funds and new homes, Springer Rescue needs people – could you perhaps transport a dog to its new home or fosterer, or could you become a Fosterer yourself? Perhaps you could help the charity by becoming a Homechecker, visiting people who hope to rehome a spaniel to make sure that their accommodation is suitable? Or maybe you could raise funds to facilitate the rescue of more of these beautiful dogs? There's lots of information and advice about all of these possibilities on the charity's website.
Springers are bright, active dogs who need to exercise their minds and their bodies.  The charity rehomes all ages of dogs from all sorts of backgrounds, and will offer owners lots of advice and support to make the experience a positive one for everyone, human or canine.  If you would like to consider rehoming a springer, again take a look at the website or contact them to have a chat.
LUSH's lovely assistant told us that the company has a team that actively looks for charities that might benefit from its help. LUSH also sells 'Charity Pots' of their gorgeous body lotion, and over the weekend 100% of the sale proceeds (less the VAT) go to their charity of the month. The tops  of Charity Pots have pictures of some of the other charities who have benefited from the scheme, such as the Bristol Bike Project and Save Shaker Aamer. The lotion itself contains seven ingredients from LUSH's very successful SLush Fund, which was set up in 2010 to take the company beyond just buying Fair Trade ingredients and enable it to develop supportive relations with the communities that produce them.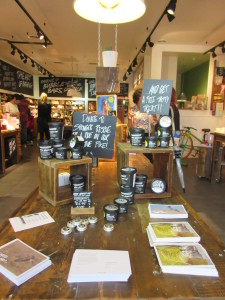 People who buy a Charity Pot during the weekend also get the chance to have a free smoothie – provided they're prepared to make it themselves on the Smoothie Bike!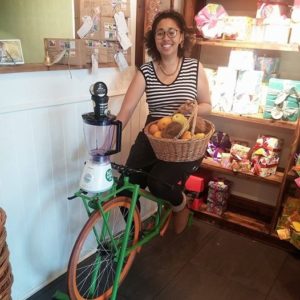 So if you'd like to get involved with Springer Rescue (or even if you'd 'just' like to make a donation), get in touch with them now.  And if you already volunteer for a local charity that might benefit from LUSH's help, see the company's website for details of how to apply, and for information about the many other causes it supports, including the protection of hen harriers, the Peace Campaign in Columbia and the human rights charity Reprieve.