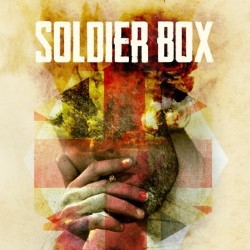 With the 100th anniversary of World War One this year, 'Soldier Box' is an essential piece of theatre to attend at the Fringe. Based on Joe Glenton's book, 'Soldier Box' (Verso Books), this is the true story of a soldier's experience in Afghanistan and the moral decisions he faced while on duty. 'Soldier Box' explores the process of conscientious objection and its perception within the military. This is a journey of compassion, morality and duty through the conflicted mind of an empathetic soldier. How far would you go for your country? And how much further for your own soul?
'Solider Box'  is an ensemble based piece of contemporary, new writing which has been adapted for the stage from Joe Glenton's thought-provoking true story.
Joe Glenton was the first soldier to refuse service in Afghanistan on Moral Grounds. He spent two years AWOL after being denied his right to conscientiously object, he developed PTSD through lack of support and came back to the UK to fight his case under the grounds that the Ministry of Defence had failed to provide the care entitled to him by his contract. He is one of the few soldier's to speak out against the military and win, and his personal accounts add more evidence to the already shadowy intent of the war effort in the Middle East.
Joe Glenton will be attending  a 40 minute session tonight for the opening of the adaptation from 6:30pm. The play will run for eleven nights concluding August 22, and will be staged at The Space (Venue 36) on North Bridge.
Book your ticket here